Retailer Laying the Foundation for Growth, Machine Learning and Futuristic Homes

Retailer Laying the Foundation for Growth, Machine Learning and Futuristic Homes
A global retailer known for minimalist homeware is now expanding beyond its 650+ store locations to sell prefabricated, 98 square foot "huts."
It wouldn't be possible for them to push the frontiers of futuristic living without strong growth in core retail operations.
Remember newspapers? Experts predict that everything bad that the internet did to media is probably going to happen to retailers.
But it doesn't have to be a retail apocalypse.
This brand has proven that in-store traffic and revenue can increase with a strong understanding and use of Customer Data.

Driving 46% Revenue Increase and In-Store Traffic With Customer Experience
Previously, the retailer ran online and social campaigns, but struggled to improve sales and generate steady foot traffic to physical stores.
They discovered that since their website visitors' primary goals were to browse for products they were intending to buy in the physical stores and check out upcoming offline sales and promotions, it would make sense to develop a mobile app.
The purpose of this "Passport" mobile app would be simple: Get more people into physical stores.
The app experience largely focuses on optimizing push notifications as a way to reach potential customers with information intended to encourage foot traffic. It is also designed to ensure that redeeming membership discounts in-store would be a painless process. Like a loyalty points card, users are rewarded with redeemable points for checking in, writing product reviews and making purchases. But, in addition, the app is equipped with technology that gives shoppers store and inventory search capabilities.
Using the app in combination with highly targeted promotions led to a 100% increase in coupon redemptions across all locations, increased CLTV, higher volumes of in-store foot traffic and a 46% increase in revenue over the last 2 years.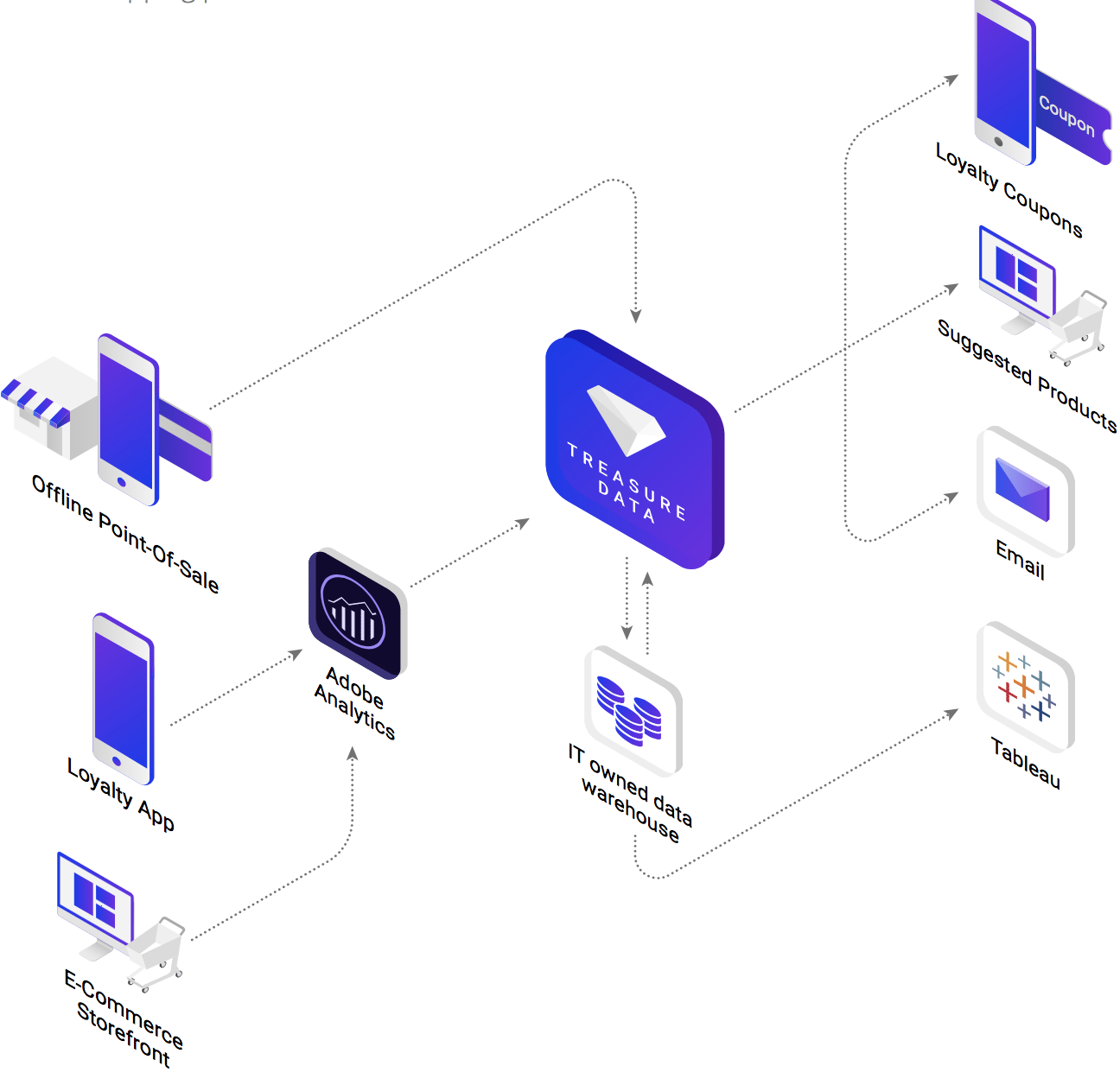 A "Point-of-Everything" Solution Enhances the POS System
So how can physical retailers build intimate digital relationships with their customers and instantly use this data to update in-store customer experiences?
Using not just a traditional Point-of-Sale (POS) system but also a Point-of-Everything solution like Treasure Data.
Having customer knowledge and data available instantly is critical, but many existing retailers struggle with this.
Treasure Data's Customer Data Platform gives retailers the ability to obtain data instantly and use this understanding of online consumer behavior to drive offline shopping purchases.
Single Marketer Performs Data Analysis at the Speed of E-commerce
Using Treasure Data's Customer Data Platform, the retailer could combine online browsing data and in-store purchase history to get a complete customer profile. Joined with real-time store inventory data, they could then execute data-driven incentives like personalized coupons and timely, well-targeted in-app push notifications dynamically, in real-time.
One challenge was performing customer data analysis at the speed of e-commerce – in time to make a relevant recommendation before the consumer's attention is stolen away. They also needed a solution their sole marketer could use independently without engineering support.
To build an application of this scale, the retailer needed to capture clickstream data from their mobile Passport app and join it with their existing web, point-of-sale (POS) and other customer data.  
Treasure Data's Customer Data Platform provided a dynamic, scalable way to acquire and aggregate these fast-moving data streams, easily, with zero IT support.

A Future of Innovation and Machine Learning
Today, Treasure Data helps the retailer to collect and process more than 8 million web and mobile events per day and analyze more than 3 billion transactions per year. As a result of the success of their digital app and platform, the retailer has ceased printing flyers, saving millions of dollars and its environmental footprint in the process.
The retailer is also working on collecting geolocation data directly from mobile devices. Leveraging Treasure Data's Machine Learning capabilities, the team is developing location-aware push promotions in their Passport app to increase impromptu foot traffic into their brick-and-mortar locations.
Treasure Data's Customer Data Platform has formed the basis for the retailer's personalization algorithms and marketing campaigns, helping to connect online customer intelligence with offline customer experience.