9 Key Takeaways from Martech East

9 Key Takeaways from Martech East
Last week, at Martech East in Boston, marketers, marketing technologists, analysts, consultants and vendors gathered to learn about the latest technologies, to talk to both customers and partners and to learn about the ever-evolving martech space.
Personally, I picked up a lot of new information and met all of my goals for the event. Attending the various keynotes, sessions and vendor talks, I picked up on several themes that are important to consider as you envision the next evolution of your company's martech stack. If you attended, let me know what your key takeaways were, by @mentioning me on Twitterhere. Without further ado, here are the themes:
Focus on the customer experience (not your funnel)

In marketing, we have become too focused on the marketing funnel and optimizing what's good for our company – at the expense of our customers. Aetna's Shiva Mirhosseini argues that the funnel approach is antiquated and that we should shift the focus back to the customer experience. Dovetailing with this, Scott Brinker explains that when we make a process efficient for our the company, while ignoring the customer impact, we create a dangerous situation. Optimizing for the customer, as well as internally, is where the "awesome" happens. Click To Tweet

Shiva Mirhosseini, VP of marketing and digital technology at Aetna making the case that the funnel is antiquated and that we need to instead focus on the customer

Document your ideal tech stack

With the goal of moving to a tech stack that supports the best customer experience, put digital pen to paper and begin to draw out your current as well as a first pass of your ideal tech stack. Include swim lanes for each of the different steps in customer-facing process. Add in the technologies that support each step. Use this document to work with other groups to gain alignment around the direction for your ideal martech stack.

Cliff Stevens, Director of Creative Operations at Liberty Mutual Insurance, shares his current state tech stack for the creative delivery process.

Partner across all customer-facing groups (and don't forget IT)

Two big messages came out very clearly in both the strategy presentations as well as in the many case studies described by companies:

In order to significantly improve the customer experience across all of your customer touchpoints, you need to align with the different customer-facing groups on the strategy, technologies, process and organizational aspects to support it.
Partnering with IT by getting buy-in early about strategic goals and new technology choices is essential. Bringing IT into the process late is a recipe for disaster.

Centralize to decentralize

In building the tech stack, Scott Brinker emphasized the benefits of implementing centralized technology that enables decentralized behaviors at the edge. For example, a CMS (like WordPress) centralizes content but allows each individual to create content easily without needing to work with IT. CDP's (Customer Data Platforms) allow you to centralize and unify customer data, which then enables various channels or organizations to use that data for personalization, reporting, analysis and various other use cases. Google sheets and aPaas (application platform as a service) are other examples cited by Scott of centralizing in order to enable decentralized activities.

With martech leadership, more gets done

A twist on the old adage about "what gets measured" could be, "what gets assigned, gets managed". In Gartner's just completed Marketing Technology Survey (see the Gartner presentation), Bryan Yeager showed that companies with dedicated martech leaders had a higher level of marketing maturity than those without one. So, even if it's not officially in their title, having a martech lead helps you make progress on documenting your ideal martech stack, gaining alignment, and implementing or removing tools and systems. See slides 14-16 in the Gartner study for more about martech leadership and marketing maturity from Bryan Yeager's talk.

Martech leaders prefer best of breed

Gartner also found that for those companies that had a martech lead, 31% of them had a preference for best of breed tools over integrated suites (22% of companies with a martech lead prefer integrated suites). While connecting different systems together takes work, having the best tools for each function seems may be preferred, especially when there's someone focused on making sure they get properly integrated into the stack.

Customer Data Platforms have hit the mainstream

Scott Brinker showed how CDPs play a central role of ingesting, unifying and supplying data for customer-facing applications and teams. In addition, a professional sports team, a furniture retail chain, and a musical instrument manufacturer all showed how CDPs are helping them drive improvements in their marketing and customer experience by providing one view of the customer, by optimizing specific channels, and for the ability to know customers across web, offline, email, loyalty programs and more (for a better omnichannel experience).
David Raab of the CDP Institute busted myths of the CDP including the following:

CDPs are new: Actually, they're often packaged software based on previously existing technologies.
You have to implement multiple use cases to get value from CDPs: Actually, you can optimize one channel to gain value and then do much more later.
All CDPs are the same: Actually, each CDP differs in terms of pedigree or specialization (for example, Treasure Data is rooted in data science with built-in tools for managing data at scale).

Learn more about CDPs in David Raab's presentation here:

Marketers will need to use AI to understand and act on customer data

The amount and sources of customer data will become so vast that marketers won't be able to effectively manage, analyze and act on all of the data, according to Michael Trapani of IBM Watson, as well as by Erik Smith of Treasure Data. In order to manage the data overload, it needs to be collected properly and AI will be used to look for patterns, to suggest actions, and to automate functions.

Tech stacks need to be built for change

Lastly, Scott Brinker made the important point that marketing (and all customer-facing groups) will be affected by constant change, including new requirements, new technologies and new regulations. Build your tech stack to be resilient. Build it in a way that allows you to integrate new systems and data and to be able to unhook them when needed without having to refactor.
What did you learn?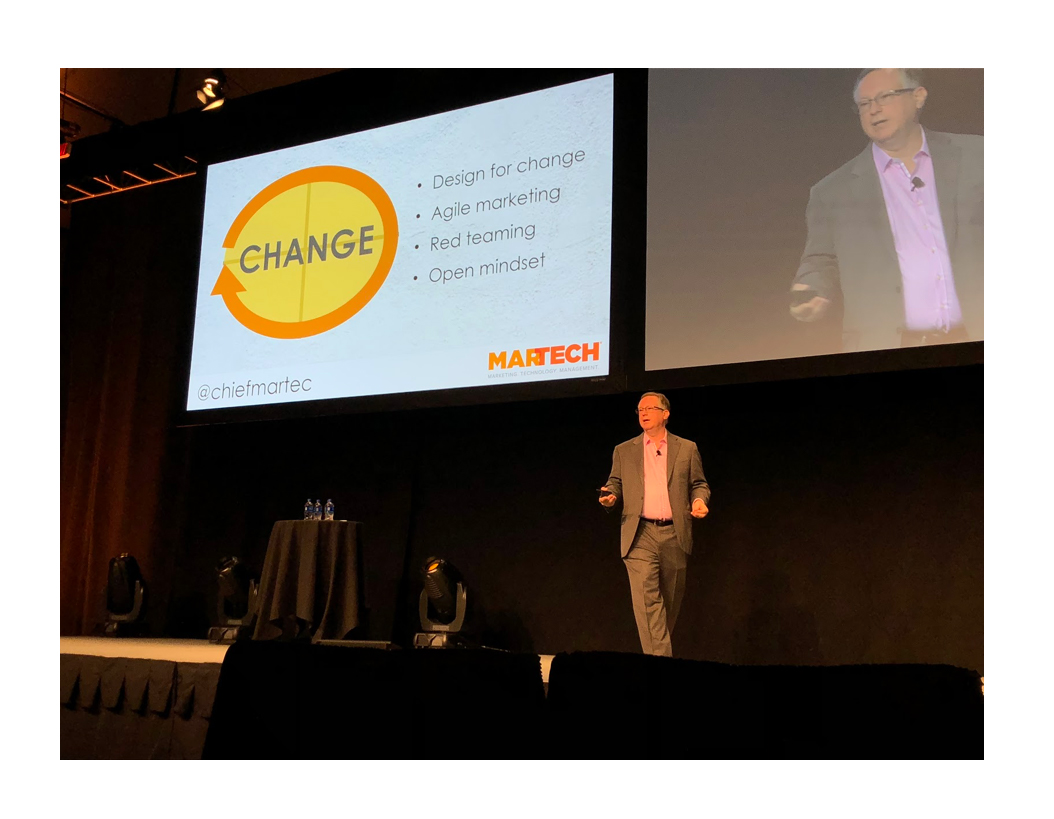 Martech East was a great event and there was a lot to learn about the newest trends in marketing technology. To learn about the upcoming dates for Martech East (as well as Martech West), see this post on 31+ Marketing Conferences to Attend in 2019. If you attended Martech East, what themes did you pick up on? If you didn't, what did you learn from this post? Feel free to @mention me on Twitter at @RtMixMktg!