IoT in Retail Will Pay Off Big—5 Ways to Ride the Wave NOW

IoT in Retail Will Pay Off Big—5 Ways to Ride the Wave NOW
When it comes to brands connecting with consumers, the Internet of Things (IoT) is often called "the third great technological transformation of a generation." It follows on the heels of the emergence of websites in the late 1990s and the explosion of social media and mobile devices in the mid-to-late 2000s.
Could you get more from what you already have?
Given all the hype over IoT, many companies—retailers included—are convinced that it requires massive amounts of time and money to get an impactful IoT program in place. Nothing could be further from the truth. Retailers can be harvesting a trove of customer data today from existing infrastructure and, in some cases, an additional modest investment.
IoT simply refers to a network of "smart" physical objects and machines that gather electronic data. This doesn't necessarily mean complicated and expensive new equipment. The fundamentals for an IoT program—cell phones and mobile apps, Wi-Fi, beacons, point-of-sale (POS) machines, and cameras—are already in widespread use. In fact, by 2035, there will be one trillion new connected devices. Many are commonplace today in retail environments, and they have the ability to dramatically increase customer engagement.
Think about today's connected retail. Digital signage, infrared foot traffic monitors, radio-frequency identification (RFID) inventory tracking chips, beacons, interactive kiosks, smartphone apps and games, and tablets used by store staff and customers—these are all already part of retail's IoT paradigm shift. By connecting customer data collected from POS transactions, web browsing habits, mobile apps, customer call centers and more, retailers can design a seamless, connected retail shopping experience for customers across every channel.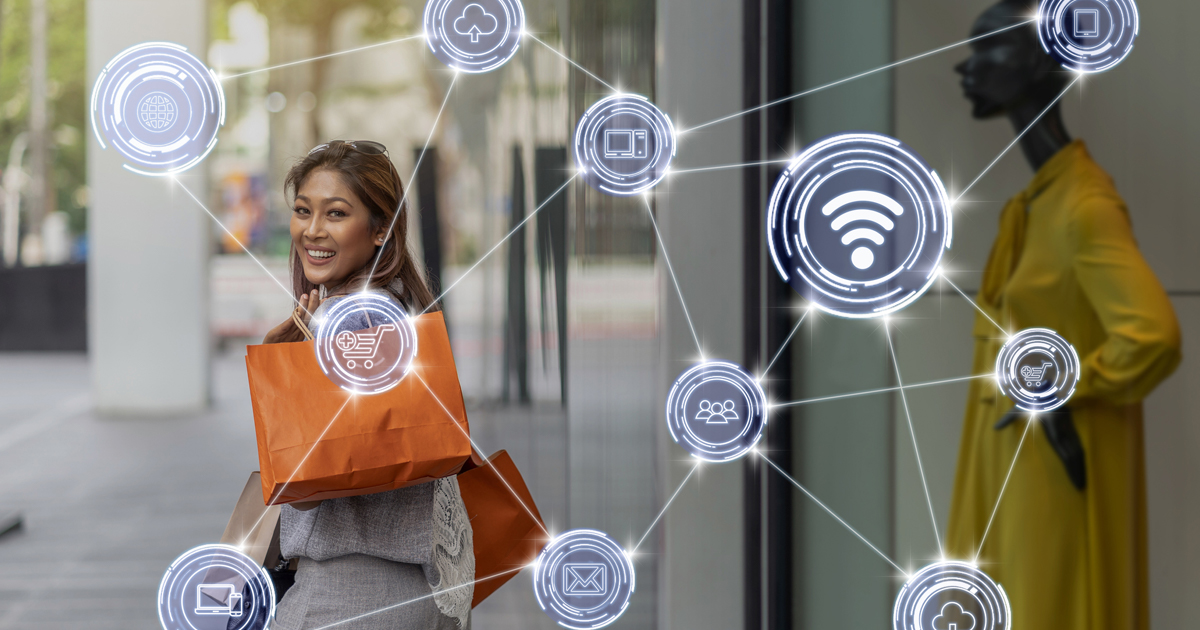 While the possibilities are practically endless, here are five ways your organization can use IoT customer data to boost results.
Improve customer service with smart use of customer data.

IoT customer data and connected retail systems can revolutionize customer service from the very first touchpoint. Currently, consumers use phone, email, chat or social media to reach customer service—a time-consuming process that will be held against the business if the issue isn't satisfactorily resolved. However, the tremendous expansion of the IoT means that connected retail devices and systems will soon be able to automatically initiate customer service interactions before customers have experienced frustrating service experiences.

Personalize in-store offers and discounts.

Rather than bombarding customers with an onslaught of poorly timed offers and discounts, retailers can use IoT customer data to tailor unique offers for individual customers. Sales history and website browsing data can help maximize conversion rates and provide incentives to keep customers coming back.

For example, imagine one of your customers shopped for smartwatches on your website but didn't buy. When she visits your store, sensors can be set up to send targeted smartwatch offers, including a list of the best smartwatches designed for women, to her smartphone as soon as she walks through your door.

Create tailored personal experiences.

As retail stores struggle to maintain or grow foot traffic, they're focusing on new ways to enhance customers' in-store experiences. IoT customer data can be used to tailor how the staff approaches shoppers to offer support and suggest complementary products.
An oft-cited early example is Rebecca Minkoff's forward-looking approach to data-driven apparel retailing. In 2014, the company rolled out "digitized mirrors" that help shoppers pick out items to try on, request different sizes or styles, and even get styling advice. When these types of experiences are connected with individual customer profiles, the result is a vastly improved understanding of each and every customer that fuels repeat buying and brand loyalty.

Another example of tailored personal experiences comes from L'Oreal. The cosmetics brand has offered VR-enhanced in-mall customer experiences to draw in exactly the demographic they want: adventurous young men who would be open to the experience and to the high-end cologne, "Only The Brave."

Streamline checkout—better yet, offer no-wait times.

Long checkout lines can deter shoppers from making purchases and, in some cases, even chase them away from going into retail stores. According to one study, 41 percent of shoppers abandon their carts when waiting in line takes longer than nine minutes, and 86 percent avoid stores when they see that lines are too long. IoT customer data can help to prevent frustration and save time. One simple strategy is using in-store systems to identify long wait times. Customers who have opted in to notifications can receive texts about current wait times and alternate locations where lines are shorter.

Provide personalized dashboards and instructions to your associates.

Retailers are coming up with creative, disruptive, connected retail strategies. For instance, shoppers arriving at stores could instantly connect their smartphone with a Bluetooth shopping cart. As they shop, the cart would tally items put inside the cart. At the exit, the app would prompt the user to finalize the purchase with a tap. Amazon Go stores have already taken this concept to the next level, eliminating checkout altogether.
Reflexis, a software provider for retail handheld terminals, uses the Treasure Data Customer Data Platform to identify, track, and profile customers who have the store's retail app, as they move through the shop. The Arm Retail solution, combined with Reflexis , makes it possible to show associates things like the average spend of the customer, what they're interested in (based on recent purchases and web viewing), and to give the associates instructions about how to approach the customer and what to offer. Since more than 300 large retailers use the Reflexis system this capability is available to many well-known chains.
While Amazon and Walmart have the resources to run numerous test projects, selecting only the best ones for production, most other retailers must follow a more practical route. And that's fine. If you focus on what you have in place today, think of creative ways to use those resources and create empowering experiences, you'll be delighted with the results. And, most importantly, so will your customers.