MarTech East Takeaways: Would Marketing Be Faster If Campaign Martech Were More DIY?

MarTech East Takeaways: Would Marketing Be Faster If Campaign Martech Were More DIY?
The next MarTech Conference isn't until April, but don't fret. MarTech East gave us plenty to think about until then. Take Scott Brinker's keynote. The man behind the conference and the marketing technology supergraphic shared his point of view on where martech currently is and where it is headed.
Agile Adoption of Martech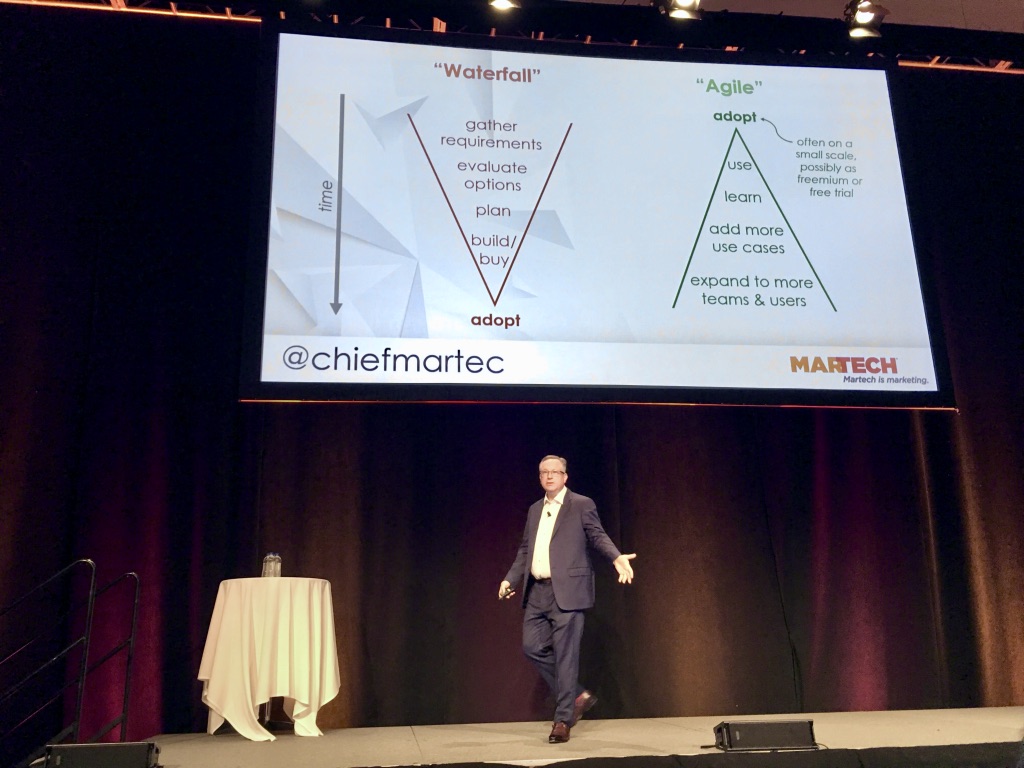 Scott Brinker makes the case for Agile adoption of marketing technology during the MarTech East opening keynote in Boston.
In an effort to make the right decision, many people (myself included), spend considerable amounts of time researching the best options. Add multiple stakeholders, all of whom are invested in choosing correctly, and the purchase decision process can practically slow to a halt. Traditionally the path to purchase for enterprise technology looked like this: gather requirements, evaluate options, plan, build or buy and then adopt.
However, as Brinker explained, there is another way. Adopt first. Start small or with a freemium product. Use it. Learn it. And then expand its adoption throughout the organization. This is agile adoption. You can think of it like adding an app to your smartphone, Brinker said, because sometimes it makes more sense to just try something and see if it works.
Martech Is Marketing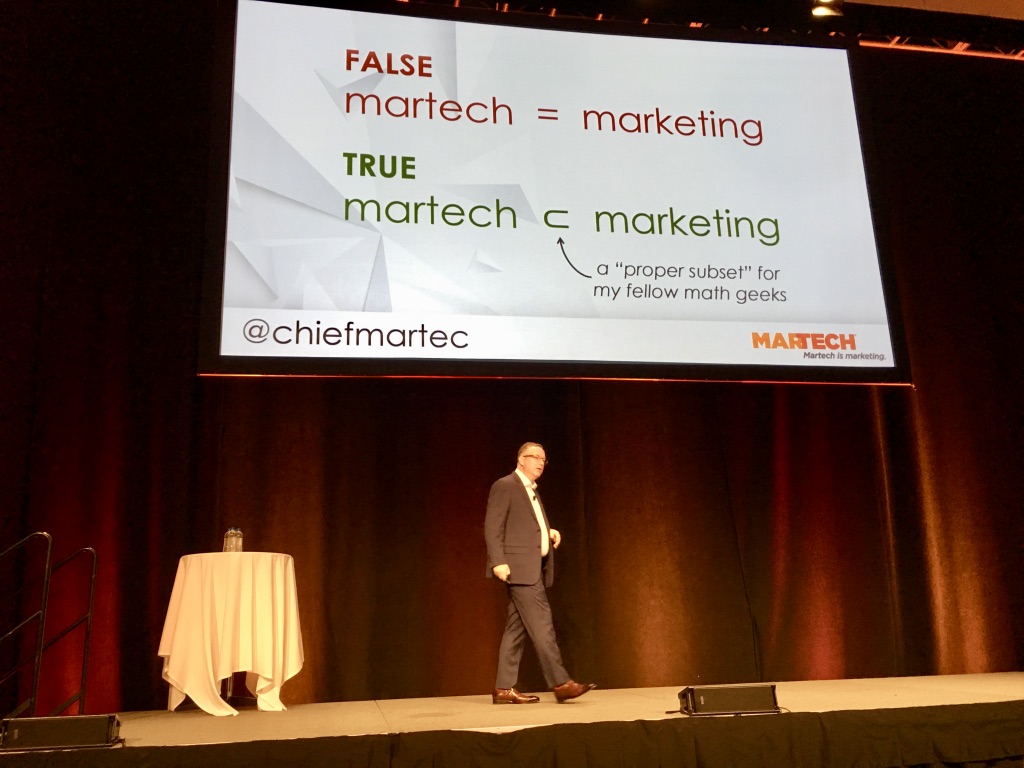 No longer a fringe piece of marketing, martech should be considered a true subset of marketing, Brinker said.
Long gone are the days of marketing ops being a fringe member of the marketing team. I mean, does any marketing actually happen today without martech? And yet, often the skills of the marketing ops team are isolated to a few. What would happen, Brinker pondered, if these skills were expanded and absorbed by other marketers. Would we, as marketers, be able to make better and faster decisions?
Martech Maturity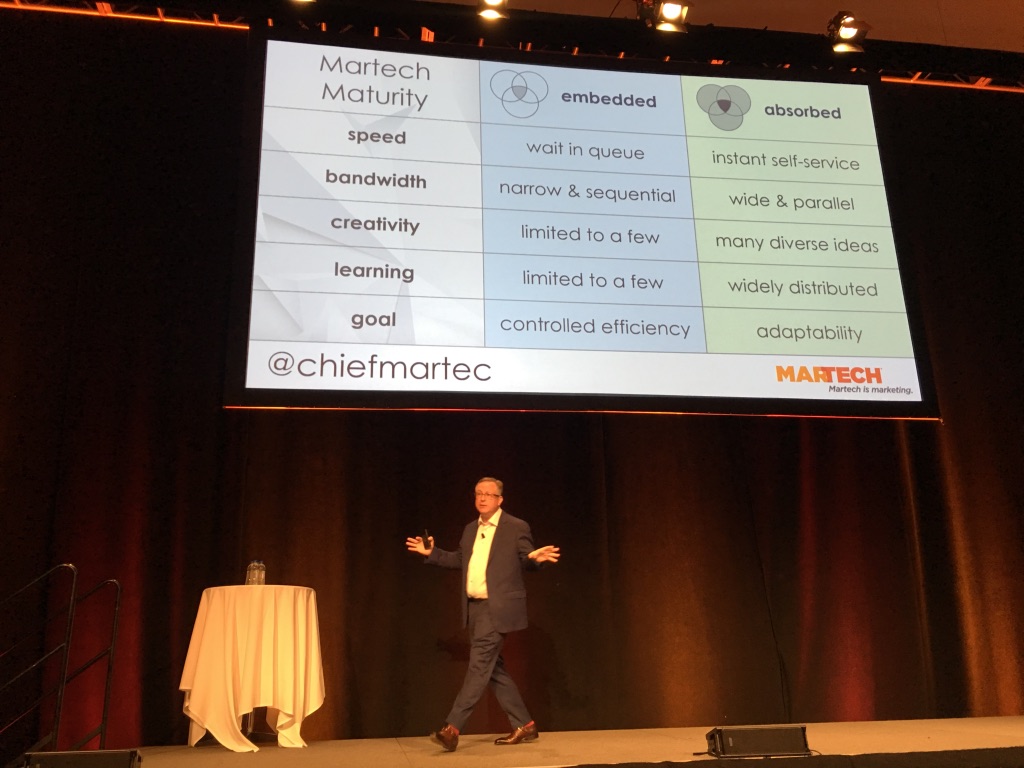 In most marketing organizations, martech is an embedded part of the team. Brinker argues that an "absorbed" approach to martech is the next step in efficiency.
Campaign, demand generation, product, content, digital, event, and, of course, ops—there are a lot of ways to divide up a typical marketing team. But what if all of your specialists became martech generalists? What if instant self-service became the norm for common marketing requests, like data analysis, website content, data collection, automated workflows and A/B testing? That's the argument Brinker made as he looked at what the next stage in martech maturity might be. This would take martech from an embedded to an "absorbed" aspect of the marketing team.
Enlightenment—But Only After You Get Past the "Trough of Disillusionment"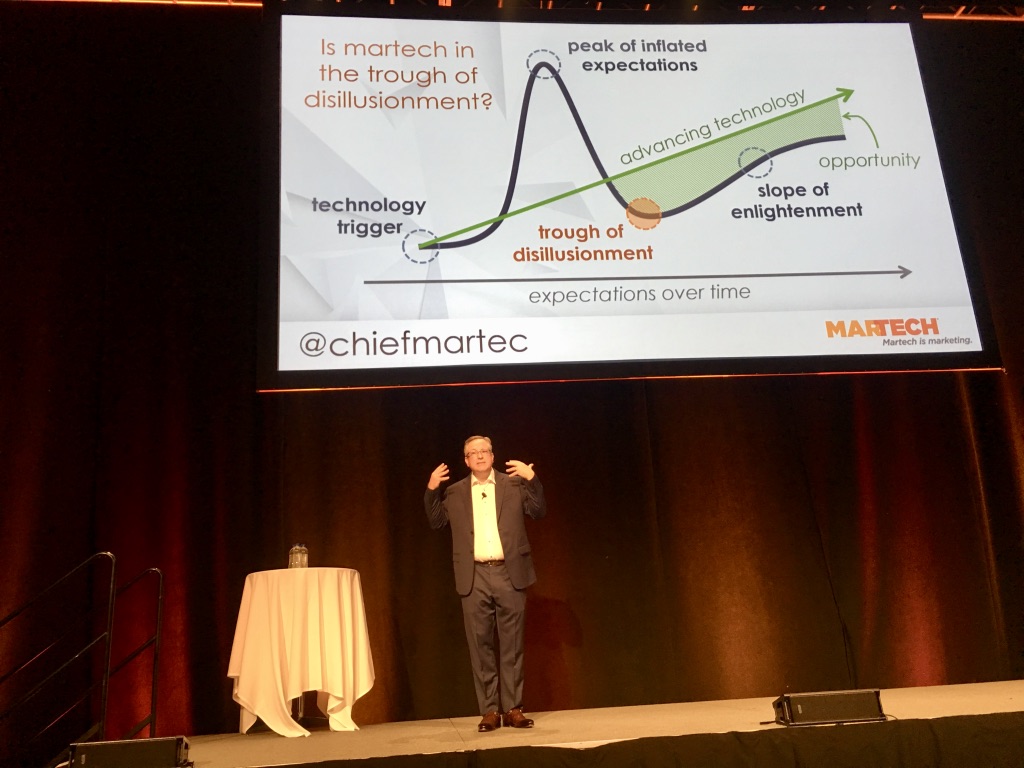 Has martech hit the Gartner Hype Cycle's Trough of Disillusionment? Brinker hopes so.
"Has martech hit the trough of disillusionment?" Brinker hopes so. That's where the real opportunities are, he says. Marketing technology was never going to meet the inflated expectations that everyone had at the peak of its hype cycle. That's not the way technology adoption works. But once we've hit disillusionment, the slope of enlightenment is next. With expectations level set and martech continuing to advance, now is the time to find out what martech is really made of.
If you'd like to dive deeper into Brinker's keynote, you can see a reenactment of it here. And to learn how Treasure Data could help your organization reach (data) enlightenment, request a custom demo.