Nobody Likes Sponsored Talks at Strata

Nobody Likes Sponsored Talks at Strata
Last month, Team Treasure Data sponsored Strata + HadoopWorld, the Big Data conference, in San Jose.
Between my booth duties and collecting swag at various other booths, I was only able to attend a couple of the talks. Curious about what I missed, I decided to collect some data to see what was popular and  how I can optimize my time at the next Strata.
Methodology
Since I am an R person, I wrote a quick script using scrapeR to scrape the following info about each talk:
Title
Date and Time
Average Ratings
Number of Reviews
Location
Below are my findings, some surprising, some less so. (Here is the entire R code to reproduce my work and here is the raw data)
Basic Stats
There were 263 talks
65 talks (or 25%) received no review =(
There are 1,345 reviews with the average rating of 3.75 on a five-point rating scale
Here is the scatterplot of number of reviews versus average points awarded by reviewers…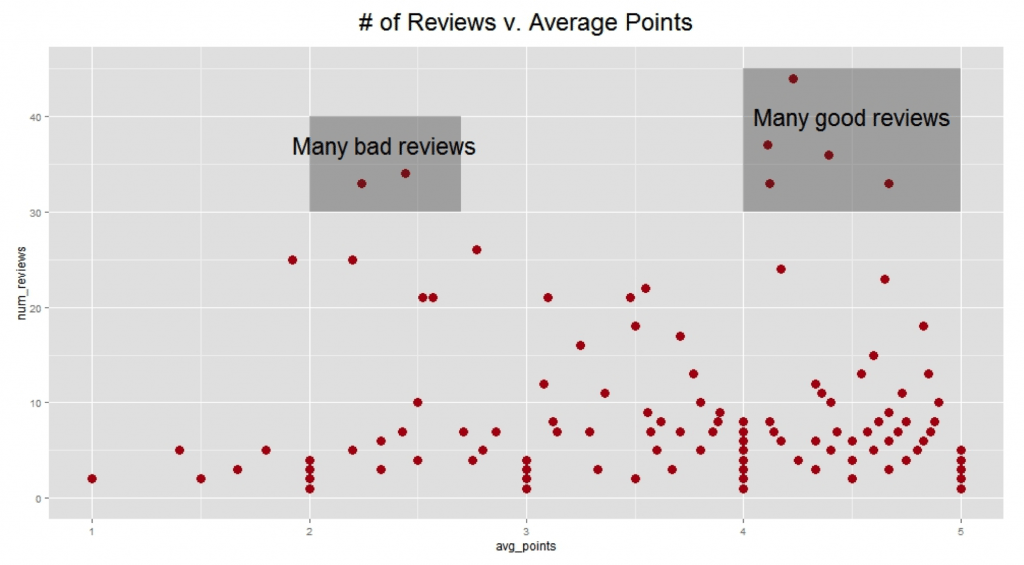 "Man, I am sick of vendors pitching their products in talks"
At one point, I overheard two conference participants vent as they came out of a presentation: "Man, I am sick of vendors pitching their products in talks." This is sad to hear because sponsors make events like Strata possible, and Treasure Data was one of the sponsors this year.
But the data shows that what I overheard represents a pervasive sentiment among attendees. Here is the graph of average ratings grouped by category: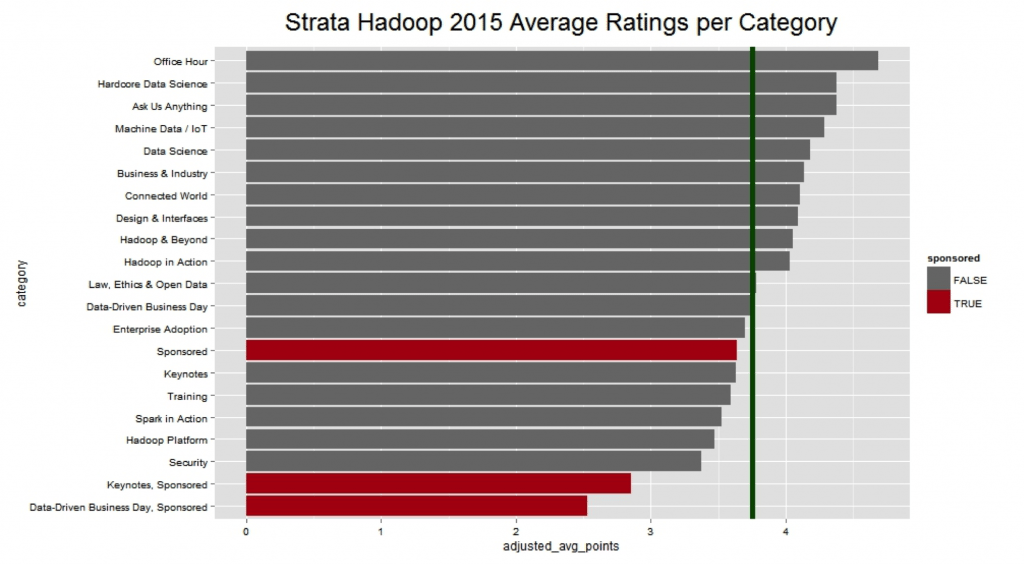 Ouch! Sponsored talks are generally low, ranking first, second and eighth from the bottom, all under the overall average of 3.75.
Folks Were at Strata to Learn
On the other hand, "Office Hour," "Hardcore Data Science," and "Ask Us Anything" were the top three favorites. This is unsurprising. Attendees come to the conference to learn from domain experts and the creators of their favorite open source libraries, not to listen to vendor pitches – especially outside of the expo hall.
Spark Might Be Too Sales-y?
One surprising thing apparent from the above ratings is how low "Spark in Action" ranked. Spark is the talk of the town, so much that the topic had a dedicated category at Strata Hadoop. But average ratings of the presentations on the topic were quite low, coming in at the 17th – even below one of the sponsored talks categories. I need to listen to the talks to find out why, but looking at the background of the speakers, my hypothesis is that "Spark in Action" talks were sponsored presentations in disguise. Many vendors are amping up their Spark stories, and perhaps there was too much selling and not enough sharing.
Conclusion
While sponsors are the lifeblood of technology conferences, attendees are what attracts the sponsors to the events in the first place. It's easy for the sponsors to lapse into the "We paid for our right to speak" mindset, but that may be counterproductive with an intelligent audience like Strata's.
So here is the question to the audience: Which sponsored talk, at Strata or otherwise, have you given five stars? Let us know by leaving a comment below.