Treasure Data to Salesforce: Augmenting your Customer Intelligence

Treasure Data to Salesforce: Augmenting your Customer Intelligence
In most organizations, there is an information gap between Sales and Marketing and Engineering. For example, Sales and Marketing typically manages CRM data, whereas customer activity data coming from websites, mobile apps and network-enabled sensor devices (e.g., wearables) falls under the Engineering/Product organizations.
This is unfortunate, because CRM data can be augmented by customer activity data to help Sales and Marketing make critical business decisions. Consider the value of augmented data with the following use cases in online gaming.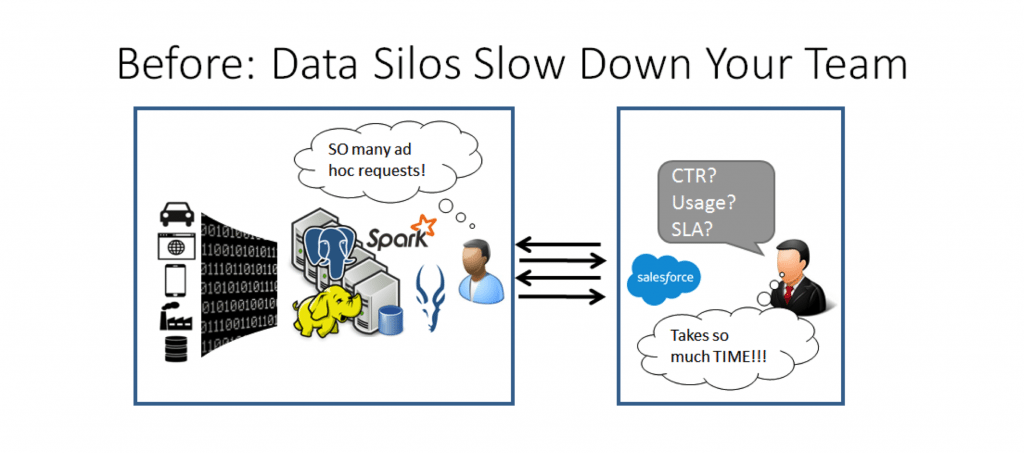 Use Case: In-game Advertisements
Based on the impression/click logs, figure out the click-through rate for each advertiser for different game titles and join the data with the advertiser CRM data in Salesforce.
Now, your sales team knows how well each advertiser is doing inside Salesforce, so they can be more proactive about following up with advertisers.
Use Case: Informing Marketing Strategy
Record where the game is installed on Android/iOS using the location API. Using this data, compute where the game is most frequently being downloaded. If the game is monetized by in-app purchases, compute average revenue per user (ARPU) for each region.
Make the data visible inside Salesforce so that Marketing can focus on the geographical regions with the highest ROI.
In both cases, note that the data existed all along, it just wasn't in a place or format accessible to Sales and Marketing. These are merely two examples to highlight the value of bringing available data into Salesforce to aggregate customer records, inform strategy and potentially improve sales.
Treasure Data's new "Push to Salesforce" feature was designed to bridge the information gap to deliver this valuable data to more people in the organization who could benefit from it and unify customer data. Now, any query result can be pushed to Salesforce as a Custom Object.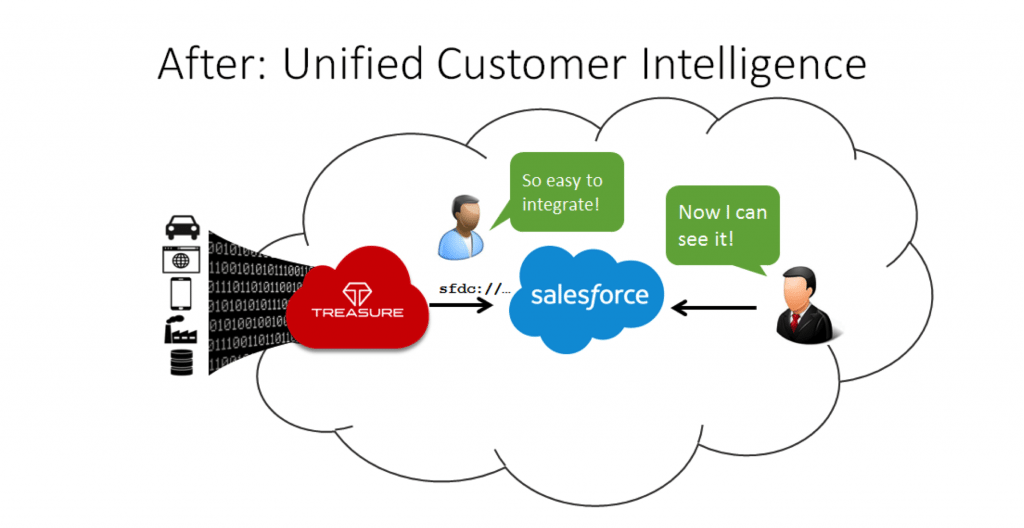 This feature is useful for both existing Treasure Data customers as well as new Treasure Data customers looking to augment their customer intelligence:
For existing customers, this is the newest addition to the result output features.
For our new customers, this feature provides a scalable, automated way of enriching your customer data with the insights from sensor and application log data.
For technical details and more information about setting up "Push to Salesforce," please see our technical documentation.
At Treasure Data, we strive to help our customers access their data more easily across organizations and departments. If you have feedback about the new Salesforce output feature or our service, we'd like to hear from you.