Hubspot CRM Integration for Enterprise: The Treasure Data Hubspot Connector

Hubspot CRM Integration for Enterprise: The Treasure Data Hubspot Connector
If you're using Hubspot, you already have a good idea why it's the world's most popular marketing automation software. There is no easier solution for SMBs to get up and running with what Hubspot calls "Inbound Marketing"—a combination of Content Marketing, SEO and Customer Experience Management.
Our new Hubspot Data Connector added to our list of customer data integrations lets you extend Hubspot's capabilities, whether you're an SMB that wants to maximize your marketing and sales automation investment, or a large enterprise that wants the ease of use of Hubspot without its limitations on CRM integration, sales automation, channel management and reporting.

Hubspot CRM Integration Unchained: Use Cases
Here are some of the ways our CDP customers are boosting their Hubspot ROI with Treasure Data:
Track sales-critical account-level app usage data to predict and prevent churn.

Would you like a crystal ball that will tell you whether your most valuable accounts are or are not getting the most value from your product? By

correlating granular user-level with account-level event data

 on your app or site,

you can

amplify your ability to predict churn in Hubspot with pinpoint precision

and elevate customer success to its rightful status as a core component of your business cycle.

Automatically synchronize Hubspot custom segments with Salesforce for integrated, personalized marketing and sales flow. If you're using Hubspot, your marketing department is probably creating data-driven custom segments for intelligent lead nurturing. But is that information getting captured in Salesforce? If you're using Hubspot's Salesforce connector, the answer is almost certainly no. That's because Hubspot and Salesforce use different models to create customer segment lists, and there's no built-in way to carry these lists over from Hubspot to Salesforce or vice versa. With Treasure Data's Hubspot and Salesforce data connectors, you can automatically synchronize custom segments in Hubspot and Salesforce. Treasure Data's advanced AI can create more refined custom segments for a personalized end-to-end marketing and sales flow, at scale.[1]
Enable CRM support for complex sales pipelines.

Hubspot's CRM is so user-friendly, even some Salesforce-invested companies

overlay

Hubspot CRM onto Salesforce as a "rep accelerator." But limitations on Hubspot's native integration with Salesforce can make channel management somewhere between unmanageable and impossible if your sales pipeline is even a little bit complicated.[2] By providing an external system of record with more advanced workflow automation than Hubspot or Salesforce,

Treasure Data makes it possible to

sync multiple Hubspot deal pipelines with Salesforce opportunities

and

trigger Salesforce tasks based on Hubspot actions that contain much more information than Hubspot Workflows enables on its own.[1][3

]
How It Works
If you are a Treasure Data customer, you should see Hubspot in the list of connections: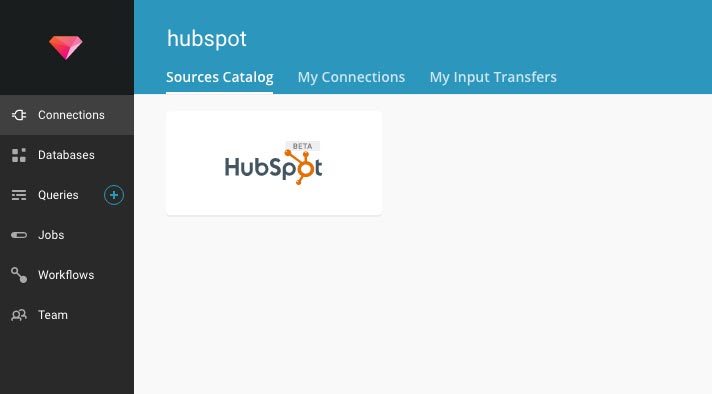 Setting up the connection is literally three clicks once you have authenticated yourself via OAuth: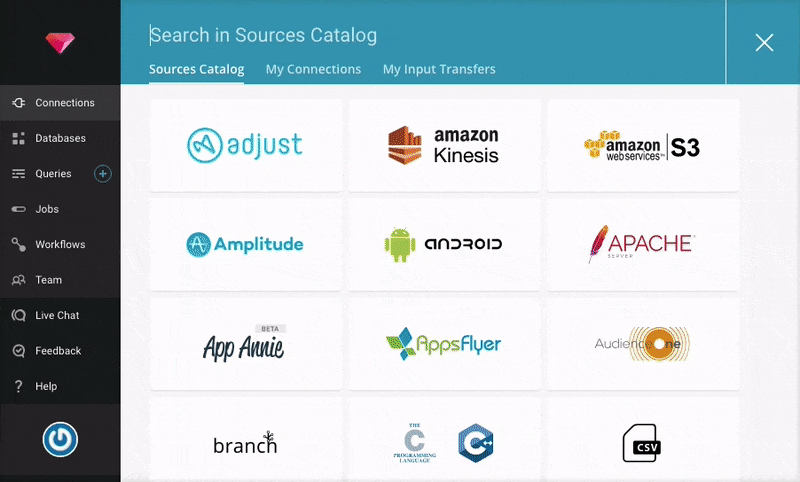 What now? If you have your Salesforce Contact and Account data in Treasure Data, you can create Custom Audiences in Hubspot targeting specific industries, job titles, geography and more.
Here's an example of a Treasure Data query that targets Retail and E-Commerce contacts in your CRM database.
To be sure, this is a very basic use case, and this new data connector has many more use cases. We'd love to learn more from you about how you are empowering your sales and marketing teams, in order to better help you automate your process via the new Hubspot Data Connector and Treasure Workflow.
For the full technical documentation, please reference this article to get data from Hubspot and this article to send data to Hubspot.