Fundamentals of Disruptive Marketing: Predicting and Minimizing Churn

Fundamentals of Disruptive Marketing: Predicting and Minimizing Churn
The Fundamentals of Disruptive Marketing is a blog series that examines how the rise of the Customer Data Platform is helping to usher in new marketing strategies and practices driving disruption across industries.
One of the most accurate marketing maxims is that it's much more expensive to acquire a new customer than it is to keep an existing customer. Common estimates put the cost ratio at anywhere between 5- and 25-to-1.
According to Invesp, however, only 18% of companies focus on retention over acquisition. While acquisition is important, studies have revealed that a mere 5% increase in customer retention can increase profits between 25% and 95%.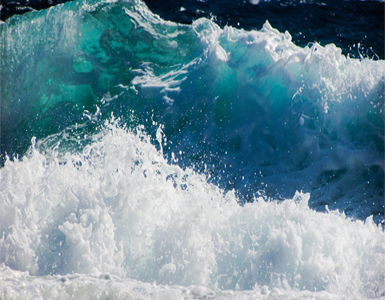 Retaining customers is critical today, as more companies depend on monthly subscriptions and fast-paced new product development cycles to drive revenue from existing customers. Profitability relies on repeat business, which funds future acquisition and retention efforts designed to sustain ongoing growth.
Is Churn Inevitable?
It's true that even the most loyal customers don't always stay with a company forever. Customers leave companies for a variety of reasons, from unfortunate customer service interactions to major life events.
According to Harvard Business School's Jill Avery, however, "The most innovative firms are using churn rate analysis as an opportunity to get ahead of losing customers rather than just accept it."
Over the years, businesses have used a variety of methods to understand why customers churn and minimize the damage. Win/loss calls, for example, are a staple in many sales organizations. These one-on-one interviews can be very useful when complex deals have a lot of money riding on them, but the insights gained typically relate only to very specific sales processes.
Most companies need a broader view of churn, because they rely on more than just a few customers. These businesses employ tactics such as triggered emails to re-engage customers whose business is falling off, and winback efforts to convince customers who've already churned to come back. These last-ditch efforts are often too little too late, because the seeds of churn are often planted six to eight months before a customer actually leaves. "If churn is your only measure of customer happiness," says Avery, "then you're always six months too late to influence your future."
Using Data Aggregation and AI to Disrupt Churn
Modern martech can make churn more manageable, by predicting which customers are likely to stay, which customers are likely to walk away, and why. If you know that a particular group of customers is likely to churn, you can avoid the expense of marketing to them in the first place, or you can create targeted campaigns that address specific issues before it's too late.
The Treasure Data enterprise Customer Data Platform (CDP) uses a combination of data aggregation and artificial intelligence (AI) to classify customers in four categories:
Unlikely to Churn
Marginally Likely to Churn
Possibly Likely to Churn
Likely to Churn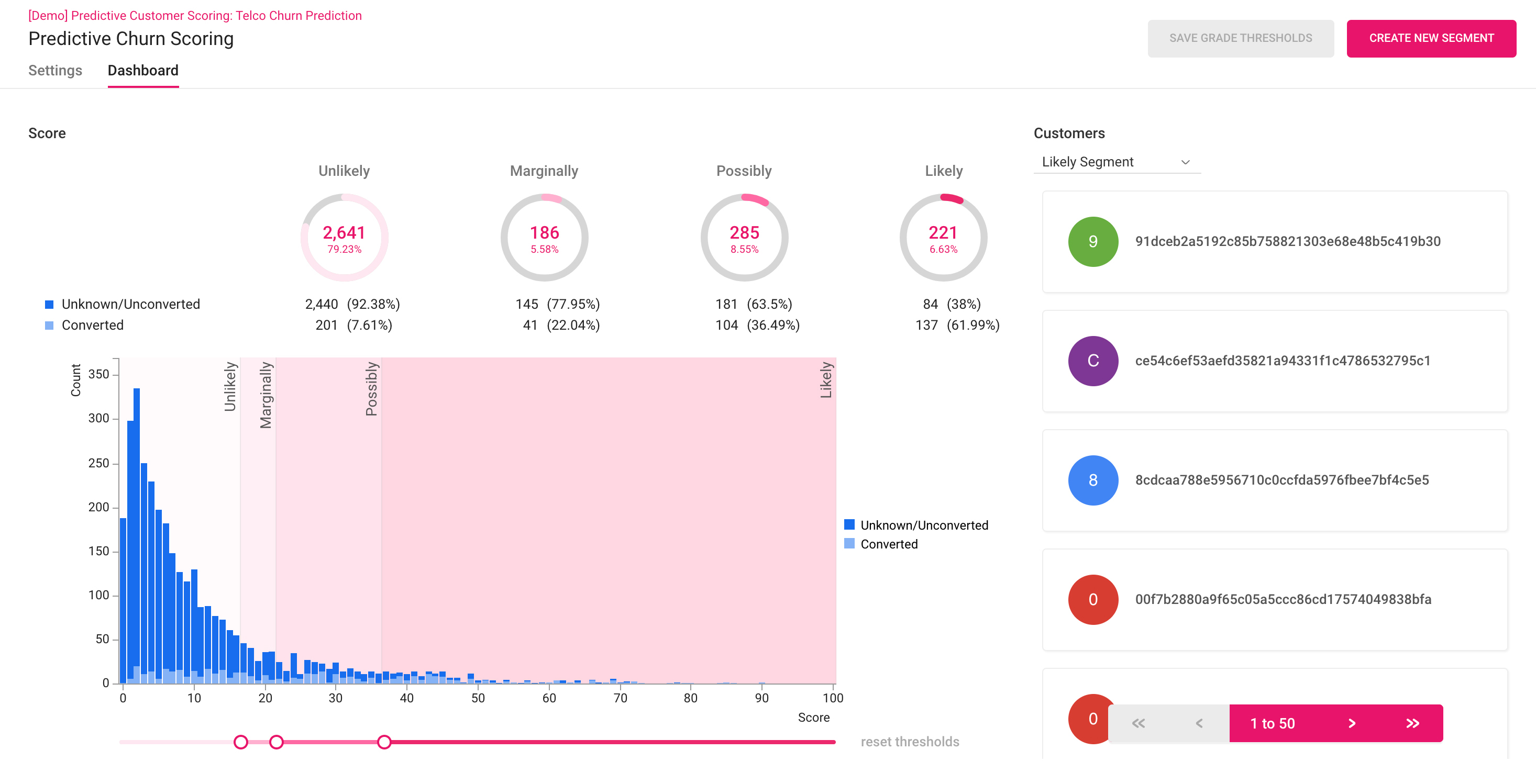 The Treasure Data CDP uses AI to predict the likelihood of any given customer to churn
Our CDP analyzes comprehensive data—aggregated from purchases, support tickets, product usage, and other data sources—from customers who've already churned, and identifies the attributes that are most relevant to churn behavior. To ensure the accuracy of these predictions, it's crucial that the CDP can ingest real-time data, no matter the structure or type, and support more than 100 integrations to incorporate the widest data set possible, including device data from IoT. Once the data from customers who have already churned is collected and the attributes that contribute to churn are identified, the Treasure Data CDP then matches the information against every existing customer to generate their specific rankings in the four categories.
Predictive Scoring in Action: Oisix
Treasure Data used its predictive customer scoring capability to help Oisix, a Japanese online supermarket specializing in organic and natural foods, reduce its churn rate by 50%. After using data related to customer behavior, complaints, and service interactions to generate its predictive scoring model, the company was able to identify reasons why different types of customers were leaving.
By analyzing those insights, the company developed effective tactics that reduced churn dramatically, such as gifting reward points to at-risk customers, addressing service issues in a more personal way, and making changes to the user interface that increased customer satisfaction.
Because the retailer relies on monthly subscriptions from more than 10,000 customers, these efforts to reduce churn had a significant impact on Oisix's bottom line.
Get Ahead of Your Own Churn Rates
Think about the reasons customers might be churning from your business. Are they frustrated by customer service or support issues? Are they limiting engagement because they just weren't a good fit to begin with? Are they disappointed by product quality? Or a lack of genuine personalization?
Treasure Data's enterprise CDP can provide you with the insights you need to understand customer journeys and proactively address your customers' reasons for leaving.
When your marketing efforts come from a real understanding of your customers, you're more likely to keep them engaged and reap the rewards of effective customer retention. To get ahead of churn at your organization, request a demo of the Treasure Data enterprise CDP or call us at 866-899-5386.