Meeting the Data Analytics Skills Challenge

Meeting the Data Analytics Skills Challenge
Building a Customer Data-Driven Organization Starts with Talent and Tech
A few years ago, Alec Ross, author of The Industries of the Future, described data as "the raw material of the information age" — as critical to society's success as land in the agricultural age and iron in the industrial age. Yet, in the 2018 survey Data Versus Goliath conducted by Forbes Insights, only 13% of business leaders could confidently say that their companies were making the most of their customer data. Those results aren't surprising.
Today the amount of customer data available has reached almost unimaginable heights. With billions of data points at their fingertips, companies are faced with the challenge of knowing what to do with it — how to connect all their data, and then ask the data the right questions so as to generate meaningful answers.
The stakes are high when it comes to finding solutions. As competition speeds up, disruptors threaten to use data to upend entire industries with new customer-pleasing innovations. Of the executives surveyed, 51% cited a high level of risk to their organizations over the next five years (in terms of market share and revenue) from technology-driven startups and innovations. Moreover, customers themselves are viewed as major contributors to disruption: 65% of executives said that their customer base (in terms of their expectations and engagement) was changing dramatically.
In this environment, it is more important than ever for companies to harness their data to manage the buyer's journey so that they can lead the way in their industries. In other words, they need to become disruptors themselves by responding quickly to customer feedback and trends. Otherwise, they risk being left behind. What's stopping companies from doing just that? The answer lies in accessing the right talent and implementing the right technology. Although that might sound relatively simple, getting these two key elements in place is much more challenging than it appears on the surface.
Why hiring skilled analytics talent is difficult
With machine learning (ML) at the forefront of the daily news, it's easy to assume that companies with an eye on the future eventually won't need data analysts at all. That's far from true. While machines can process huge amounts of customer information very quickly, they can only produce useful results when they are asked the right questions. Ultimately, companies still very much need digitally talented, data-savvy employees with the skills to understand how to parse their volumes of data, how to know what to look for, how to ask the right questions, and how to make sense of the information that comes back.
And most of today's companies do understand that they need talent. Over the next five years, 59% of organizations expect to increase positions requiring data analysis skills. At this rate, data analysts are more in demand than developers: the Bureau of Labor Statistics projects a growth rate of 27% for research analyst positions compared to only 15% for web developers. In fact, there is currently a shortage of talent to fill the thousands of jobs in the market space. During the last 30 days alone, more than 250,000 jobs were posted in the United States across a multitude of industries — including technical services, finance/insurance, manufacturing, health care, educational services, and more — that required some level of data analysis1.
The problem of high demand and relatively low supply is further complicated by increasing expectations. Research shows that companies want data analysts to be well-rounded. According to 41% of polled executives, presentation and sales skills (being able to use multi-dimensional views of data to tell a story, sell concepts, and/or make recommendations) are highly valuable skills. Another 41% of executives listed experience with statistical analytics languages and platforms, such as R and Hadoop, as critical. And 31% mentioned proficiency with statistics and math.
These expectations are consistent with internal necessities. They help ensure that talent is best prepared to work most effectively with a data team. However, as with any field, some people will gravitate more to the analytics side, some to the programming side, and some to the design/presentation customer-facing side. Many candidates simply aren't as fully rounded as they need to be to become viable candidates.
Technology tools pose further challenges
While hiring skilled employees is one step in building a data-driven company, having the right technology to process the huge volumes of customer data is another crucial component. As it stands, however, most companies struggle with using their data. Only 34% of companies in the Forbes survey could say that they "have a single view of my customer aggregated from all of my systems and applications data." Without this control, it becomes impossible to manage the buyer's journey.
A big part of the problem is that often the technology that gathers and stores customer data is not connected. Instead, it is locked away in proprietary systems and silos. When surveyed, more than half of executives said that they weren't able to fully understand their customers because their applications (52%) and data (51%) were too scattered or siloed. Another major obstacle was that technology was too outdated or rigid (55%).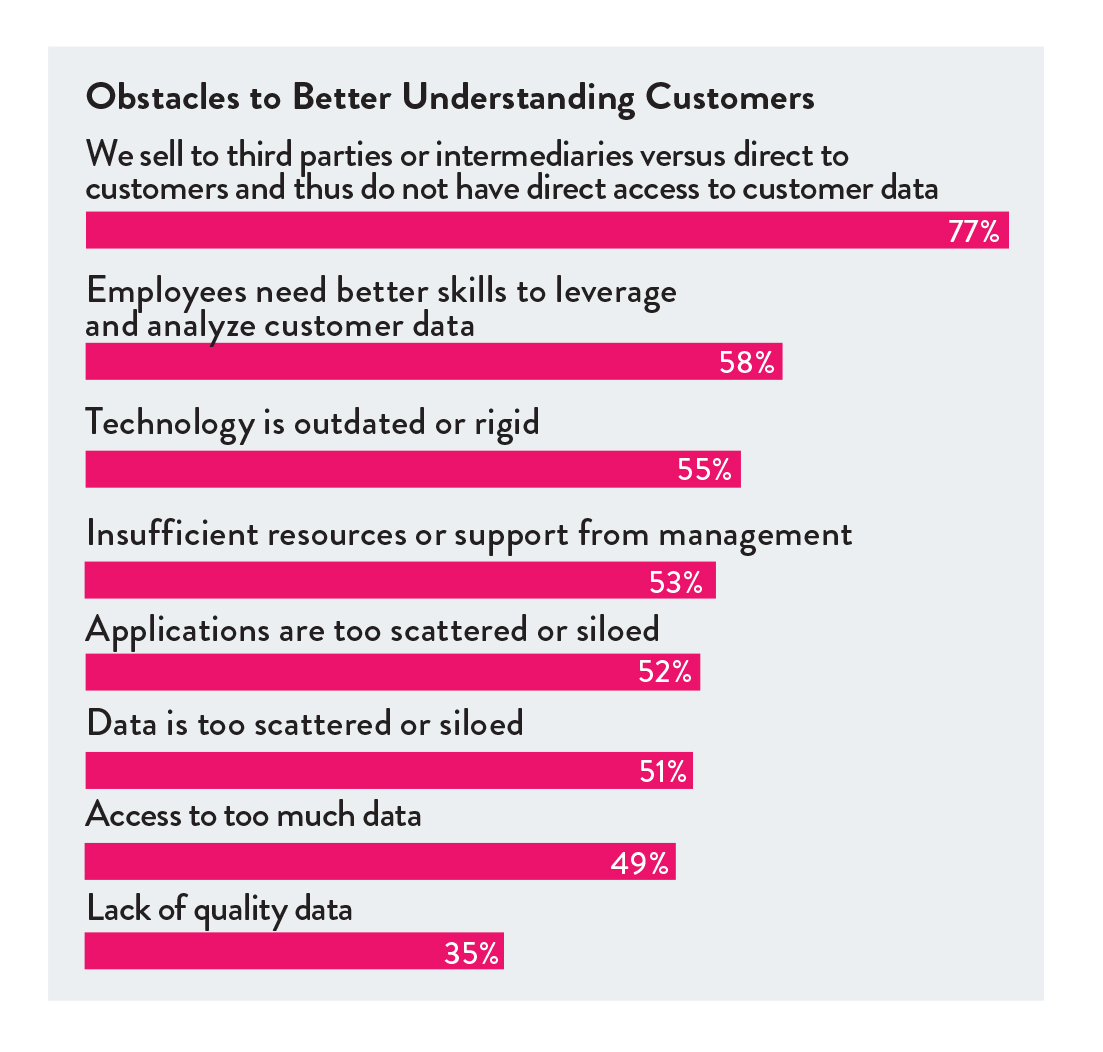 To gain a better control of their customer data, many companies are now embracing technology that incorporates data from customer-facing systems, including in-store point of sale systems, website analytics, billing systems, and more. Some 78% have deployed a customer data platform (CDP) or are developing their own in-house. While this technology certainly solves the issue of siloed applications and data, research has demonstrated that a lot of it is still too immature to be a very helpful. Almost half (47%) of executives said that analyzing customer data and drawing conclusions about the success of their marketing campaigns or changes to their customer experience took more than one week.
In order to compete in today's hypercompetitive digital economy, responding quickly to customer preferences and trends provides a critical advantage. Ideally, companies need to adopt technology that not only combines the customer data in all of their systems and silos, but also provides a set of easy-to-use tools to get insights on-demand.
Solving the analytical skills problem
As companies increasingly become data-driven, competition for talent only promises to escalate. Companies need to strategize if they want to be successful. When looking to fill data analyst roles, a good place to start is the local university. Many top universities offer programs that directly meet the needs of regional employers, often through their continuing education departments. For example, Trilogy Education provides intensive data analytics programs at dozens of campuses from UC Berkeley to Rice to Northwestern, ensuring major companies like Dropbox, Google, Ernst & Young, Towers Watson, and Wells Fargo can find talent.
Another strategy is to rethink hiring requirements. Many human resources departments have stringent recruiting practices that define strict limits for qualified applicants, unnecessarily narrowing the candidate pool. Today some of the leading companies are starting to evolve their hiring requirements in order to access untapped new talent reservoirs. Rather than limit their talent search to only applicants who have a traditional four-year computer science or business degree, they're expanding their search to include any candidate who can demonstrate the necessary technical skills.
Lastly, as you work to bring new analytics talent to your team, don't overlook the fact that it's a good idea to invest in training at all levels of your organization. In the Forbes study, 58% of executives reported a need to develop employees' skills so that their companies could leverage and analyze customer data. It's been suggested that unless refreshed, the value of an engineer's knowledge diminishes by 25% per year. Helping your senior employees advance their skills is a proactive strategy for keeping them on your team. In a recent research study by Randstad, "feeling equipped with the latest digital and technology skills" was among the top factors cited for job satisfaction. Fifty-five percent of digitally skilled employees are willing to switch companies if they feel like their skills are stagnating.
When searching for creative ways to meet talent requirements, many companies are taking a more integrated approach, working with universities and partners like Trilogy Education to build customized programs to retrain current employees. Trilogy's approach is unique in that it helps familiarize students not just with the current tools available, but also with the theory behind data analytics and visualization. This approach ensures students are well-rounded and have a framework from which they can understand how to choose and apply various available technologies, ask the right questions, and present data in a way that tells a story.
Leveraging CDPs to handle customer data
Advanced Customer Data Platforms have recently entered the market and promise to remove many of the obstacles created by immature and in-house technology. Using machine learning, data modeling, and analytics, these customizable enterprise CDPs enable companies to generate deep customer insights and actionable next steps with a just few clicks. Although most CDPs are designed to be marketing tools, they also have applications across the enterprise. Today's enterprise CDPs oftentimes provide valuable insights to all levels of an organization. Companies that Treasure Data has worked with show a direct connection from CDP implementation to reduced costs and increased revenue — and the time to value can be much quicker than executives expect.
One of our partners, Wish, built and scaled a popular personalized mobile shopping app using Treasure Data's enterprise CDP. The company wanted to unify customer data collected from multiple sources (website, Facebook, mobile app) to power its shopping recommendation engine. Wish needed to ingest 17 billion events per day from multiple sources and process in the trillions to ensure 95% relevance of the products that crossed the consumer's field of vision. Treasure Data helped Wish connect all of its customer data, as well as integrate continuous improvement with regular A/B testing. The addition of a single data field to the billing page increased the number of completed international mobile purchases by 7%. Today Wish is the #1 shopping app in the United States.
Another partner, 8×8, adapted Treasure Data to their organization in order to break down silos, combine customer data, and gain immediate visibility into their business operations. The project was started because the company wanted to ensure that customer data was collected, cleaned and defined properly across the organization. Today the 8×8 team has achieved broad consensus around what their data is telling them. They also know exactly how to respond and have multiple ways of viewing data on-demand, which puts them in the ideal position to become an industry disruptor. This highly successful project was up and running with new customer insights within 180 days of project kickoff.
Final thoughts
Companies that aim to build a data-driven, customer-centric business must invest in both talent and technology — that's the only way to effect the cultural and structural changes necessary to evolve. While putting these dual pieces into place may be a challenge, a willingness to implement new ideas and the latest CDP technology are keys to resolving any obstacles. As disruptors get better at responding to ever-evolving customer expectations, it's more important than ever for companies to harness their customer data to deliver superior customer experiences. The most successful companies today are doing much more than just advertising their products and services. They're working to deeply engage their customers as individuals. And that should be the strategic vision of every business leader moving forward.
---
1-Burning Glass data (Accessed 7/30/18)