Customer Data Platforms (CDP) for B2B

Customer Data Platforms (CDP) for B2B
Selling to other businesses is complicated — an enterprise customer data platform (CDP) can make it a whole lot easier.
While enterprise customer data platforms (CDPs) have roots in the consumer world, they are just as valuable for B2B companies with complex sales cycles.
Amit Erande, Director of Solution Engineering at Treasure Data, explains in a new webinar about B2B use cases for CDPs that the biggest challenge for B2B companies is the existence of "buyer committees" in prospect and customer organizations.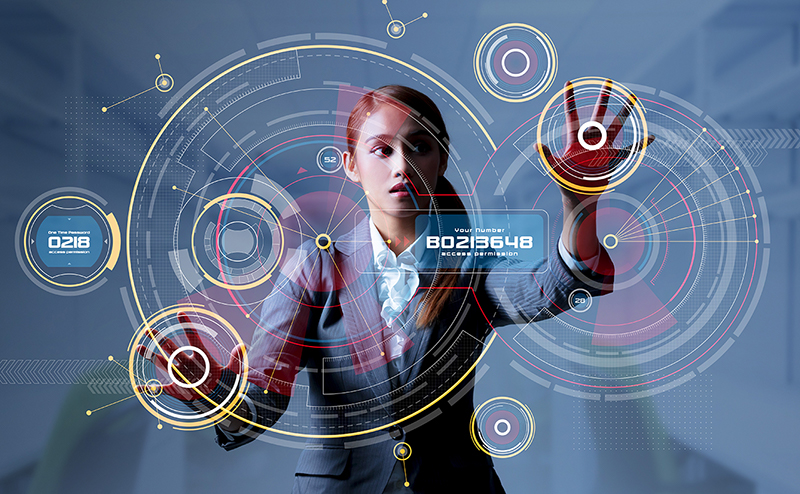 Individual members of these increasingly large groups of people, spread out across multiple departments, have unprecedented authority to make or break important business deals.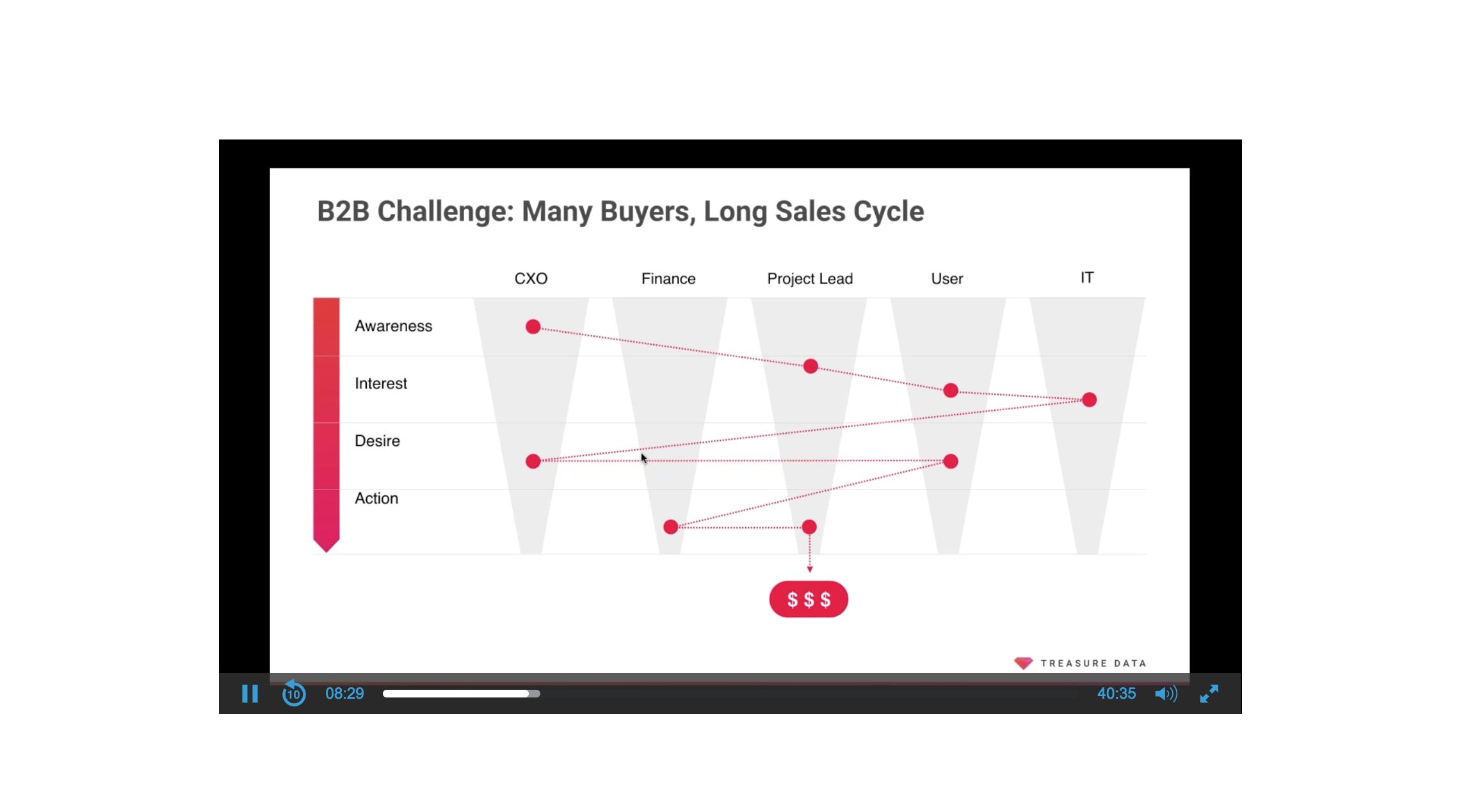 The prevalence of multiple buyers and long sales cycles make B2B organizations prime candidates for enterprise CDPs

Put our CDP to work for your B2B organization
"The potential for detractors and derailment of any deal is high," asserts Erande. "No matter how good your product is, it's hard to cater to all the individuals in the committee unless we understand the drivers and viewpoints formed by all those different people."
CDPs Are Built to Handle B2B Complexity
The intricacy of B2B sales cycles makes the enterprise CDP a valuable tool for B2B organizations. CDPs are marketer-controlled databases that unify customer data and support coordinated programs across all online and offline channels. With the right CDP, B2B companies can do a much better job in the following areas:
Mapping customer journeys
Personalizing communications
Preventing churn
Creating upsell and cross-sell opportunities
CDPs help marketers aggregate massive amounts of customer data, generate insights into behavior and intent, and make smarter decisions for better results. Think of a CDP as a big data engine for on-demand scaling. There's no limit to the amount of historical information you can keep on the Treasure Data enterprise CDP platform — one of our largest customers generates 600 billion rows of data every month.
A CDP focuses on first-party data to analyze companies' known consumers, and can then enrich this data with second- and third-party data for a holistic view of every customer. Unlimited scale means you can keep more relevant data and create new opportunities for accurate attribution, higher ID match rates, smarter personalization, and customer modeling.
With a CDP, it's never been easier to create segments by customer, account, opportunity, lead, industry, business size, location, etc. This flexibility is critical for zeroing in on the different needs of different types of customers.
Better Knowledge, Better Engagement, Better Measurement
A good way to understand the power of an enterprise CDP is to consider different use cases that help you know your customers better, engage your customers better, and measure your results better.
Watch the Webinar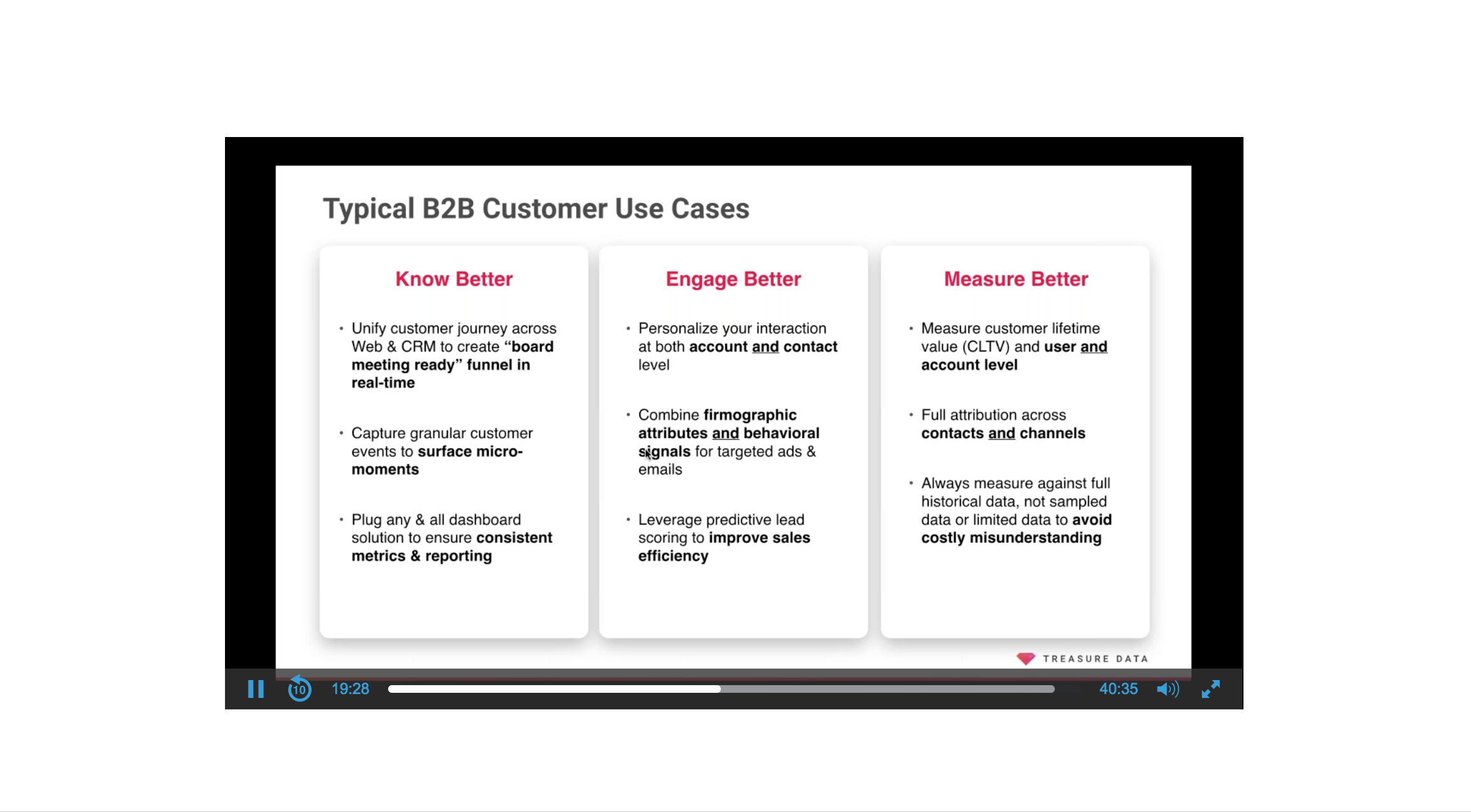 CDPs make it easier to understand your customers, engage them more effectively, and measure your results for continuous improvement.
How will your B2B organization use our CDP?
With unified customer data, you'll gain important insights that allow you to check the status of your pipeline in real time. You'll also be able to respond quickly to customer events that you never would have been aware of otherwise. Say, for example, that multiple contacts from a single company are browsing your website and looking at a whitepaper touting your firm from a respected research firm. A CDP can alert you to the behavior in real time, so you can put that white paper front and center when anyone else from that company visits your site. CDPs let you activate against specific behaviors in a very personalized way.
By responding to insights and actions related to customer behavior and intent, you'll have a much better chance of engaging prospects across all four phases of the buying process, from initial awareness to final purchase decision. If you can build awareness by being in the right place at the right time, increase interest with the targeted promotion of features and benefits, and capitalize on desire with a correctly timed demo offer, for instance, you'll be a lot more likely to convince those buying committee members to sign a contract.
Through better engagement, you'll also be able to leverage predictive lead scoring to improve sales efficiency. This incredible capability, which uses artificial intelligence and machine learning behind the scenes, is particularly useful for reducing churn and revealing valuable upsell and cross-sell opportunities.
Watch the Webinar
Predictive Scoring in Action
8×8, which markets a truly unified cloud communications platform, relies on the Treasure Data enterprise CDP to leverage an enormous amount of warehoused data and build out predictive models for customer insight, pre-engagement tracking, customer retention, and account forecasting.
The CDP ingests and aggregates data from several backend systems, including Marketo and Mailchimp, through out-of-the-box connectors. The data is then pushed into Tableau, a business intelligence tool.
It took only four months to complete the CDP implementation and gain unprecedented visibility into business operations. The 8×8 marketing team is now able to track revenue by segment, investigate support ticket drivers, analyze churn by customer size, product, and account representative, and much more. Using granular insights made possible by the enterprise CDP, 8×8 is continuously improving its ability to forecast and optimize its sales and marketing pipelines.
Take Advantage of All the CDP B2B Benefits with Treasure Data
With the help of the Treasure Data enterprise CDP, any B2B organization can maximize revenue and shorten sales cycles. To learn more about the value of an enterprise CDP for B2B, watch our webinar now or contact us today to learn more.