eTail West: Don't Stop Believing in Personalized Customer Journeys

eTail West: Don't Stop Believing in Personalized Customer Journeys
Walking through the conference halls of eTail West 2019, you'll be surrounded by like-minded peers looking for the next in tech to accelerate their company to "etail glory." And it's clear just from the eTail West 2019 exhibitor list that the role customer data plays is important and central to understanding the millions of customer journeys that your customers and prospects undertake each day, on many channels. The future of retail will be powered by analyzing each step of every single constantly changing customer journey, to personalize their customer experiences and increase conversion and loyalty.
But customer data is also crucial to understanding and communicating the health and ROI of marketing programs to internal stakeholders as well. When customer data is siloed into separate martech platforms—email and lead-gen, CRM, loyalty programs, social media trackers, scattered databases, and more—it becomes nearly impossible to figure out what convinced a prospect or a customer to buy, to postpone a purchase, or to go to a competitor.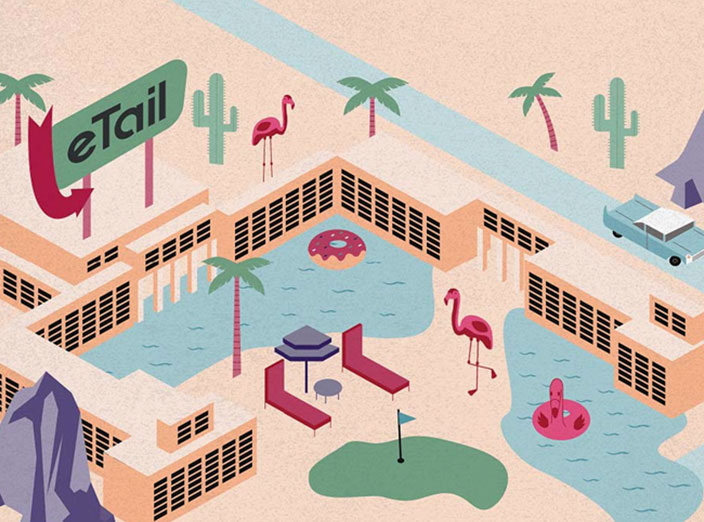 Each platform focuses on one particular channel, so you have no idea if, say, an in-store purchase was preceded by a lengthy web search, social media discussion, or previous in-store visits. And if you don't know these things, it's impossible to calculate the ROI of all that expensive martech.
But you can do BOTH. The best omnichannel retailers solve both the personalization and customer profile puzzle and the ROI puzzle with one powerful technology—Customer Data Platforms (CDPs). CDPs integrate data from many other platforms and data sources to create a complete, unified profile of each customer, including previous purchases, content consumed, offers received, social media behavior, geographical data, and almost any other source of customer behavior or history.
How Unicorn Startup Wish Beat Amazon at Its Own Game
Already, some smart marketers are using CDPs to deliver the right touch at the right time to maximize customer lifetime value. Peter Szulczewski, CEO and co-founder of Wish, made it his goal to become the top mobile shopping destination. To achieve this, he knew Wish had to approach customers with highly personalized digital experiences. The first step was to consolidate all customer profiles and behavioral data into a CDP, pulling from platforms that handle email, social media, loyalty data, and more. Wish combined over 20 data sources to create a single customer view for each of its customers and prospects. Using this view, they personalized engagement, witnessed 93% of sales occurring without a client search (just using recommendations), and increased ad-click rates and new user conversions.
How Do CDPs Work?
Treasure Data enterprise Customer Data Platform (CDP) is built to unify the customer journey across channels and provide an omnichannel, full 360-degree view of the customer. The system features an integrations hub, with hundreds of pre-built connectors to easily ingest data from external sources, including email service providers, social media platforms, support tickets, and clickstream data. This data is aggregated, stored, and analyzed in Treasure Data's proprietary data warehouse, which resolves various customer identities to create unified customer identities.
Here's how that works. The initial step in a customer journey often starts with a social media or web ad, which results in the customer becoming part of an audience. The next step could be an outbound email campaign, targeted based on specific browsing events from social media interaction.
Using the Treasure Data segmentation and activation manager within the CDP, you can implement future campaigns and journeys based on specific behavior patterns. CDPs can also track and visualize customer offline interaction such as in-store visits, if that information is captured from POS data or in-store device interaction. It's even possible to use data from mall parking garages to track store visits.
To solve the ROI piece of the puzzle, multi-touch attribution models are designed to properly assign credit to the channels that influence each step of every customer's journey. These attribution models are then consumed in the Treasure Data reporting application or a business intelligence dashboard of your choice. You can analyze which of your marketing and sales efforts resulted in each sale, calculate ROI for different types of martech, and do more of what worked, and less of what didn't.
Leave eTail West Knowing How To Make Sense of ALL Your Customer Data
While you're at eTail West, visit us at booth 714. We can help you answer the questions that nag most marketers, like: Do my website visitors feel satisfied with their experience? Is our brand cultivating a relationship with our customers? How can we perform better against our revenue goals? If you want to learn more about how a CDP can up your retail game using targeted personalization at scale, book a one-to-one technology showcase with our experts! Or stop by our speaking event:
Friday, Feb 22nd 11:25 a.m.-11:45 a.m. at eTail West
Presented by Erik Archer Smith, Director of Marketing ABM
Future Tech, AI, Mobile & Immersive Media Track