Customer Highlight: Driving Online-to-Offline Commerce With Targeted Rewards

Customer Highlight: Driving Online-to-Offline Commerce With Targeted Rewards
Treasure Data helps a global retailer turn big data into big revenue with a self-service Online-to-Offline (O2O) solution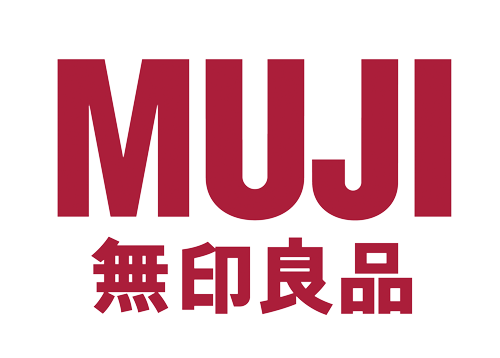 Data is a powerful tool for today's retailer. The information generated by website visits, customer purchases and store loyalty programs contains rich insights that can be used to drive marketing automation and conduct trend analysis. But retailers often struggle with how to collect, process, and analyze the enormous amount of data coming from thousands of uncoordinated sources. Even more challenging is performing this analysis at the speed of e-commerce – in time to make a relevant recommendation before the consumer's attention is stolen away. This was the challenge facing global retailer MUJI when they came to Treasure Data.
A Global Retailer with a Multi-Channel Presence
MUJI operates 414 physical stores in Japan, an additional 344 brick-and-mortar locations around the world, and an online e-commerce site. They wanted to unify the shopping experience across all these storefronts with a new customer loyalty app called the MUJI Passport. This app would allow shoppers to scan in-store displays to earn loyalty points and unlock personalized coupons based on their previous purchases, browsing history and current physical location. To provide this experience, MUJI needed to combine online browsing data with in-store purchases and other offline activty to create a unified customer profile for each shopper. The unified customer data would form the basis of their personalization algorithms and one-to-one marketing campaigns as well as more accurate ROI analysis.
A Big Data Challenge, Short on Time
To build an application of this scale, MUJI needed to capture clickstream data from their new Passport app and join it with their existing web, point-of-sale (POS) and other customer data sources in a single Source of Truth. To realize the full power of this huge amount of data, MUJI needed a dynamic, scalable way to acquire and aggregate these fast-moving data streams.
To make it more challenging, MUJI's single marketing technologist had to deliver a complete solution within two months: Collecting and cleaning noisy Adobe SiteCatelyst data, joining it against POS and MUJI Passport data by user_id and finally making summarized reports available to the entire company via Tableau dashboards – all without any engineering help.
Break Down Data Silos, Create Unified Customer Profiles
MUJI now uses Treasure Data to collect and process more than 8 million web and mobile events per day from their 10M users and almost 4.6M Passport app downloads. Treasure Data's flexible, zero-coding-required Data Connectors allowed them to bring together disparate data sources into a single view. Furthermore, Treasure Data is designed from the ground up to ingest and store a large volume of dynamic data to dramatically increase data access and availability, allowing digital marketers and data analysts to focus on their core expertise: creative marketing and data-driven insights.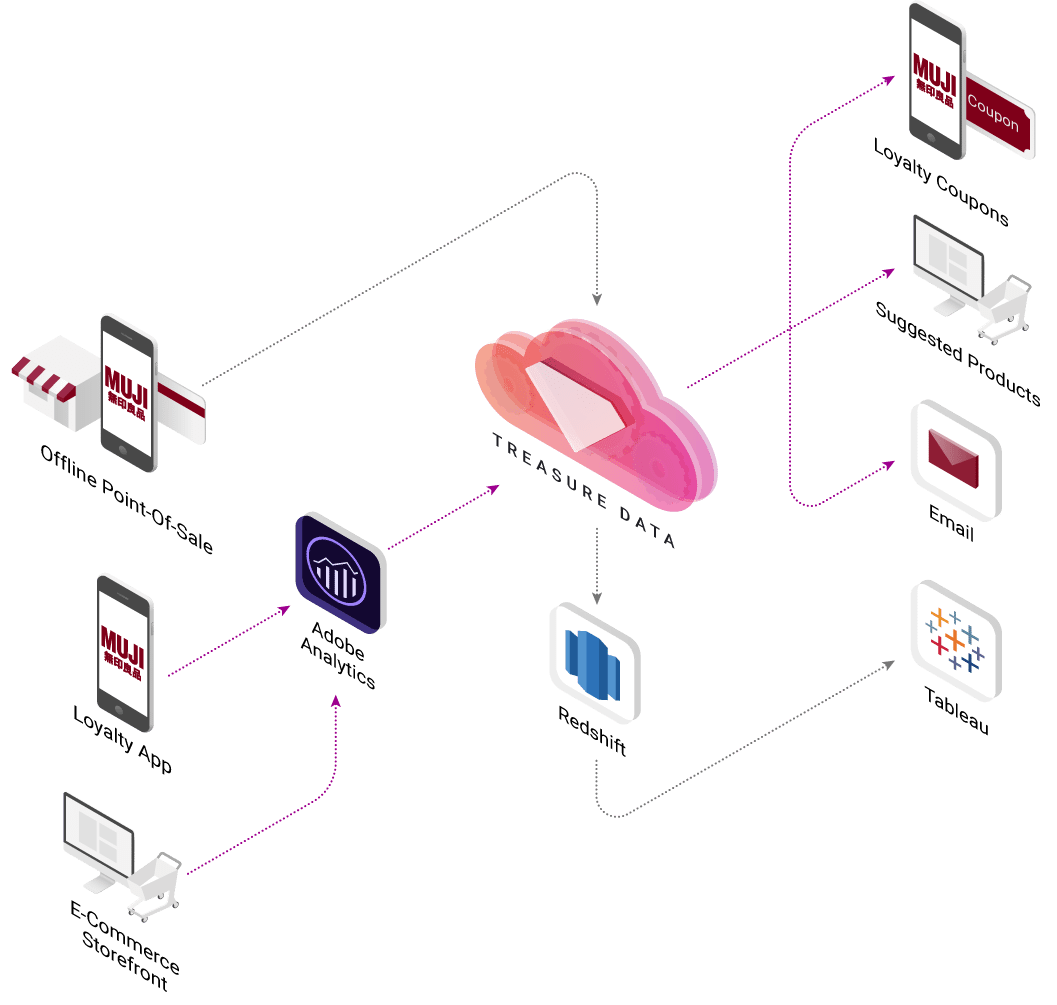 Architecture Diagram
MUJI's Treasure Data-based O2O analytics platform gives their analysts a detailed picture of each shopper, allowing them to deliver data-driven incentives like personalized coupons and dynamically calculated "shopping points" through the Passport app with full knowledge of each customer's past spending habits and real-time store inventories. These highly targeted promotions have led to a 100% increase in coupon redemptions across all locations, driving more in-store foot traffic and a 46% increase in revenue over the last 2 years.
A Fast Track to Value with Treasure Data
Thanks to Treasure Data's plug-and-play simplicity, MUJI was able to begin seeing this value within a single month – quickly scaling to analyze more than 3 billion transactions per year with no additional engineering support or changes to existing infrastructure. Treasure Data has enabled MUJI to focus on empowering decision makers with rich data without any concern for maintenance and support of a highly scalable system.
Automation and Beyond
In the next phase of this project, MUJI plans to use Treasure Data's cut-and-paste SDKs to begin collecting geolocation data directly from mobile devices. Leveraging Treasure Data's Hivemall machine learning library, they will look to create location-aware push promotions in their Passport app to increase impromptu foot traffic into their hundreds of brick-and-mortar locations. Treasure Data continues to provide MUJI with the support and flexibility they need to grow and add new capabilities at enterprise scale.