10 Good Reasons to Vote for Treasure Data CDP in the Marketing Technology Awards 2019

Best Martech Award 2019: 10 Reasons to Vote for the Treasure Data Customer Data Platform (CDP)
Martech decisions are always tough. Everyone's existing martech is different, enterprise needs and business processes are diverse, and there are hundreds of choices. Your business probably has a martech stack that includes everything from email marketing to social media and content marketing, to web marketing tools, loyalty program solutions, and CRM-based marketing and sales solutions. They all perform critical roles in your marketing strategy orchestration. So how should you decide how to cast your vote for 2019's Best Martech Award?
Well, one way to decide is to demand more than just technical excellence in one tool. Of course you want to pick great technology, but what if your choice could improve your ability to improve the ROI of every other component of your martech stack? Pick the one martech choice that turbocharges the returns of what you already own, integrating the data in all of those other platforms to create thousands or even millions of unified customer data profiles you can use for omnichannel selling, more effective retail personalization, and dead-on, finely targeted segmentation for cross-selling and upselling. Not all CDP providers offer a complete solution, and fewer still pull together data from all of your platforms, updating your data in near real time.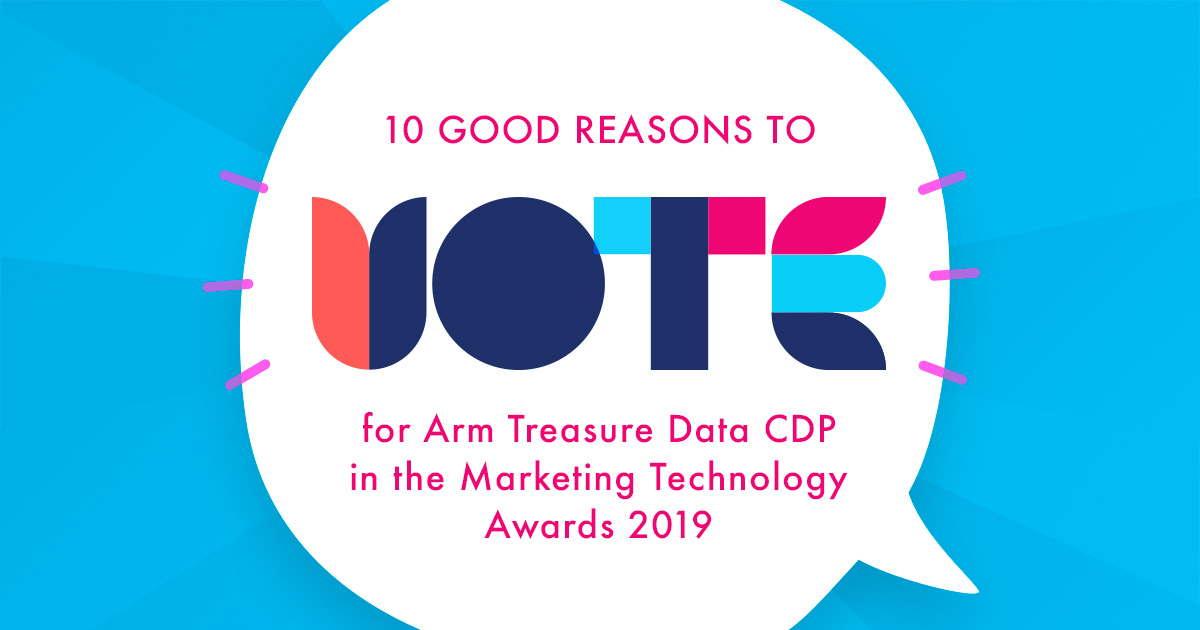 Here are 10 good reasons to vote for the Treasure Data Customer Data Platform solution.
At a Glance: Treasure Data CDP
Unifies all your data and leverages what you already have—Treasure Data enterprise Customer Data Platform (CDP) makes it easy to ingest data from almost all popular data sources, consolidating existing user data and making it available almost instantly. The CDP automatically tracks the customer journey across channels and provides an omnichannel, full 360-degree view of the customer.
Versatile, so you can turn on a dime when business needs change—With most data warehouses, you're locked into a particular data structure, and changes are painful, time-consuming and expensive. These schema management issues are nonexistent with Treasure Data enterprise CDP, since it uses schemaless ingestion and adapts on the fly as data is imported. And whether it's structured or unstructured data, there's no need to change your data model every time you want to make a few changes.
Enterprise-ready, easily scalable—The Arm Customer Data platform currently handles 2 million records/second and 130 trillion total records for data ingestion. And this is not even a limit, just current performance. We help businesses scale out for data growth—both from a data storage platform (we are currently handling Petabyte-scale data volumes) and from a data processing standpoint, regularly handling over 600,000 queries per day with 99.99% uptime.
Open-source DNA, dedicated to meet changing business needs of all enterprises—Treasure Data started as a big data management platform and has deep roots within the open source community. We have invented an open data protocol adopted by enterprises like Apple, Uber and thousands of other companies, and created one of the world's largest Hadoop user communities. We also introduced a Linux-based system to the Fortune 100. We fully understand that open-source technology makes software more accessible and developers more connected. As a company, we strive to give back to the community and welcome all contributions—including Fluentd, Embulk, and Hivemall—to our solution.
Real-time data management, constantly updated customer profiles—Data can be streamed to our solution in real time, significantly reducing data latency issues. We can handle all common types of events, and depending on the type of event, data can be processed for targeting in real time or near real time. Mobile and web events are processed into the customer profile in real time, and all other events can be processed as needed and added to the customer profile in near real time. This helps you and your marketing team focus on getting insight from the data instead of spending time on how to get the data into a state where it can be analyzed.
Breaks down silos, makes life easier on IT AND marketing—The CDP is meant to be the central place to unify data across all your sources and data streams leveraged by your marketing team, thus breaking silos within organizations effortlessly, without needing extensive transformation efforts. Our omnichannel functionality provides the ability to automate the activation of segments across channels seamlessly, essentially tearing down the silos between activation channels. Treasure Data customer, Subaru, combined customer data stored in their corporate CRM with data from digital ads and a variety of 3rd party dealerships—read the full use case here.
Trusted by enterprises everywhere, in all major industries—From gaming to ecommerce and CPG, more than 30 Fortune 500 customers and 12 out of 100 largest CPG companies use Treasure Data for everything from omnichannel retailing to brand sales and marketing to monetizing entertainment, games, publishing and media properties. We are also excited to announce we have been recognized for the second year in a row in the Gartner Magic Quadrant Data Management Solution for Analytics report. As the only Customer Data Platform vendor present, Treasure Data CDP has joined the ranks of AWS, SAP, IBM, Oracle, etc. We've also earned a high number of positive Gartner Peer Reviews: 30 reviews with a 4.6 out of 5 rating. See our page on the status on a CDP Magic Quadrant from Gartner here.
Data security is our backbone—With cloud data centers based in the US, Japan, and EU, all information handled by Treasure Data is encrypted at REST and released on certain privileged access only. We provide extensive security controls and alignment with our customer's security requirements, and these are monitored by our IT and InfoSec teams.
More than 120 Integrations, for silo-busting power throughout your organization—Our platform features an extensive integrations hub, which includes pre-built connectors that easily ingest data from external sources including email service providers, social media platforms, clickstream data, and support tickets.
Partners, for broad, deep data coverage—Treasure Data leverages best-of-breed partnerships, enriching your data with second-party and third-party data providers to create customer segmentation and syndication across multiple channels.
Management research shows that effective, visionary leaders like to make decisions that solve many problems at once. Treasure Data CDP solves a variety of data marketing problems, PLUS, they unify your marketing stack into one great marketing-and-sales machine. Here's your opportunity to make one decision in favor of one great solution to many of the problems you face running a complex martech stack. For that, Treasure Data requests your vote for its CDP solution in the The Marketing Technology Awards 2019.