VR, AR and Mass Personalization: How Far Must Retail Go to Reinvent Itself?

VR, AR and Mass Personalization: How Far Must Retail Go to Reinvent Itself?
The era of mass-market-retail is clearly out on a ledge, judging by the Hunger-Games-style body count of store closings, but what will take its place? How far will retailers go to entice customers to actually GO shopping? And what intriguing customer experiences can they realistically offer shoppers that their customers can't already get online?
A recent virtual-reality-augmented Diesel fragrance campaign might provide some startling clues. Created for L'Oréal's Diesel brand and titled "The Edge," it provided a VR experience for Diesel's aptly named "Only the Brave [fragrance] for Men."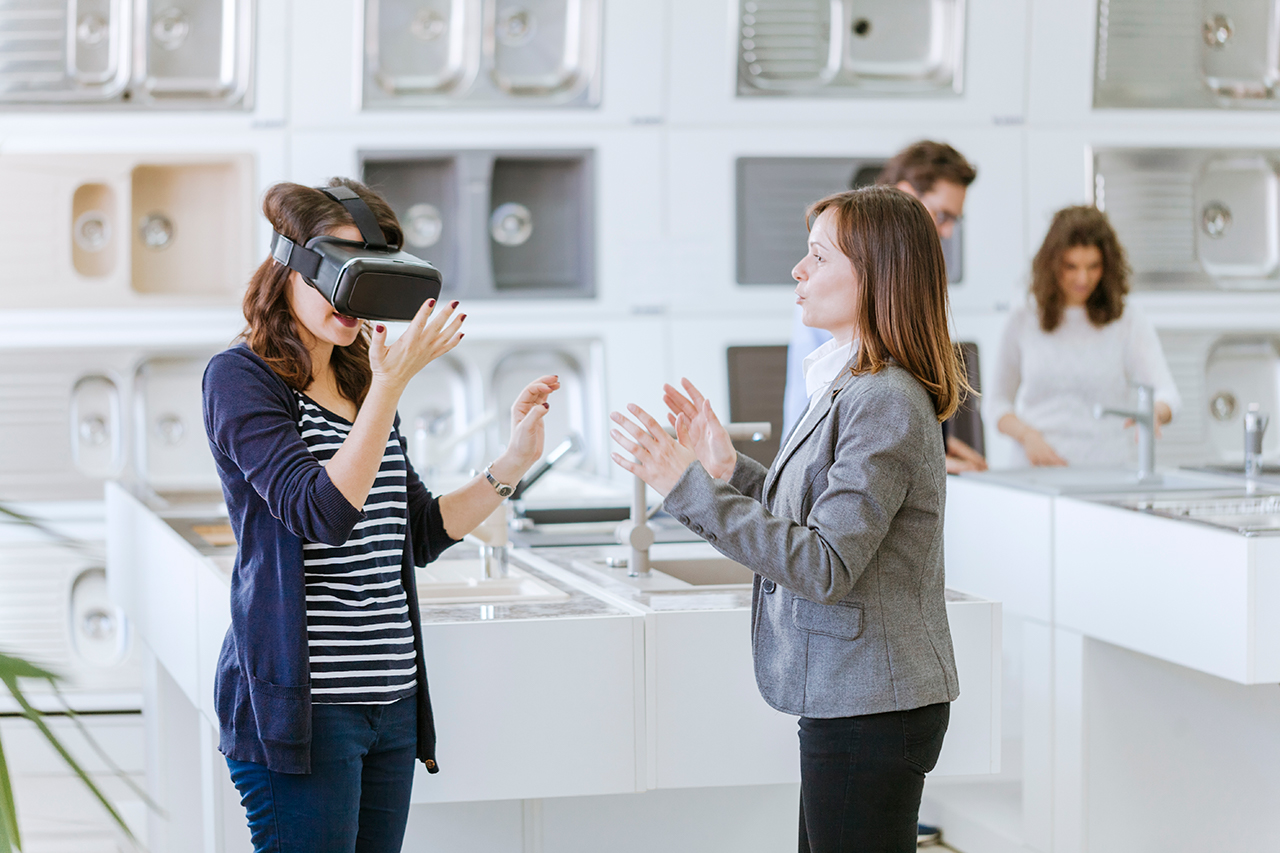 Don't Look Down! L'Oréal and Diesel Boost Sales 120 Percent with VR
The physical installation consists of a small specially-configured floor and two walls that provide haptic (touch) sensations to match the software-created 360-degree customer experience that viewers see in their VR headsets: They're up on a narrow, unstable skyscraper ledge that is rapidly crumbling, and they must inch along the ledge to a window where they can grab the "Only the Brave" fragrance. Everywhere they look, they see other buildings, many below them. And software-controlled fans blow wind across the faces of the Brave, making the experience extra ledge-like.
And it was successful, say representatives of the company that created it, BackLight, boosting sales up to 120 percent at locations where it was available.
BackLight also does a half-hour four-player team VR experience for entertainment, called "Eclipse," which played at the Cinequest 2019 Film Festival this March. It's like an escape room in space, where you and three other people interact with each other to solve problems and overcome obstacles. But if you fail, everyone knows it, because everyone screams at the same time when they sense themselves being sucked out into space.
And if "Only the Brave" is anything like "Eclipse" and other VR experiences, there's a heavy social component to the experience. People go in groups, and take pictures of the victims…er…participants wearing the headsets and doing the experience, posting them to whatever the social media du jour is for their demographic. "Here's Jason screaming while falling off a VR ledge! LMAO!" is probably the general theme of most of them. Lots of people also show off the cool, brave thing they just did. And of course, creating an experience so different that people slather it all over social media only helped boost the campaign.
So Can AR and VR Really Help Revive Retail?
Of course, there are many ways to use virtual reality (where you're in your own software-created space) and augmented reality (where the real world comes with additional scenery or images and text overlaid on real things, as in Pokémon Go or recent Mario Brothers games). Some retailers are experimenting with augmented-reality apps to help shoppers see how clothes, makeup, or glasses will look on their own bodies (instead of a mannequin or model). And others, like Parco, are using location-based games to get people to go from store to store within malls.
A recent Forrester report, "The State of the Digital Store," suggested that retail spaces and malls are already becoming more experiential, with events and demo areas to attract traffic, show off products and boost sales. (Think climbing walls, basketball courts, fashion shows and mobile game apps in the spirit of Pokémon Go.) Forrester expects this trend to continue and suggests that smart retailers who adopt an experiential strategy might do better at omnichannel retail.
How about Customer Personalization-Augmented VR/AR?
But many of these experiences are not cheap to implement, and one person's fun Saturday-at-the-mall-with-The-Edge is another's never-in-a-million-years nightmare. These experiences need to be highly targeted at segments that will enjoy them, appreciate them, and come to identify with the stores and brands that supply them.
VR and AR phone apps can also deliver some experiences less expensively. For example, some "fitting apps," which help you create a room and fill it with furniture, or fashion apps that help you virtually try on clothes and walk the catwalk in them, are typically less expensive to create than a full-blown VR installation.
But personalization technology, which helps sort out customers' behavioral patterns and preferences, can also play a big part in targeting the right prospects for expensive VR displays.
Customer Data Can Help Target Shoppers for VR/AR Promotions
And one of the ways to match the customer to the right experience—efficiently and effectively—is to use technology such as customer data platforms to develop accurate, complete behavioral profiles. Some thrill-seeking customers will get the scary VR promo, while the more risk-averse might get an offer for an incentivized mobile app. But everyone gets the offers and experiences they're most likely to enjoy.
So say you can only run a Diesel-like experience at your mall 10 times every hour, for a total of 100 patrons. You can use a customer data platform (CDP)to target people whose customer data profile suggests they'll not only love it, but will tell everyone they know about it AND buy the fragrance. While they're at the mall, they might even head on over to the latest high-tech athletic gear store, or check out a consumer electronics store. Once you've got people out of their homes and workplaces—looking for something interesting to do, see, or buy—you've got a chance at closing some sales.
Retail is fast becoming a realm where Only the Brave survive. But with the technology that's now available and constantly becoming better, faster, and easier to use, there's also a way to survive and thrive. The difference might just lie in technology to enhance and target each customer experience to avoid very real and costly sales drops.