New look, features allow all CDP stakeholders to work together closely and maximize productivity across teams

New look, features allow all CDP stakeholders to work together closely and maximize productivity across teams
News Highlights:
Treasure Data provides a new user experience with simplified navigation
Key enterprise capabilities for faster development of integrations, scalable segmentation and flexible privacy controls
Launch of European data center expands Customer Data Platform use cases across the globe
When we talk to marketing leaders about their biggest pain points, the struggle to consolidate data across departmental silos seems to always be at the top. In fact, 87% of executives are not confident they are leveraging all of their customer data effectively. This is a problem and one that greatly impacts the customer experience. Customer Data Platforms (CDPs) have always meant to provide marketing teams unified, real-time, self-service access to customer data. However, in most cases it is not just marketing that needs to be involved, but rather teams across the organization need to be able to work together seamlessly.
Bridging the Gap Between all CX Professionals
In our latest release, Treasure Data is leveraging our data engineering expertise to combine powerful tools for data scientists with those used by digital marketers for targeted market segmentation. Now all the capabilities needed for integration, clean data pipelines and customer identity resolution are delivered alongside a powerful Audience Studio for marketers' to create precise customer segments, run predictive analytics and activate customer lists for the next level of productivity.
Additionally, our new global navigation, now available to the general market, empowers users with the ability to move from data management tasks to marketing tasks seamlessly. Global navigation, combined with the enhanced user experience, is the foundation on which we have built our latest set of capabilities. This allows for more cross-organizational collaboration in response to day-to-day customer data.
We recently spoke with Chris Pintimally, operations manager at Exostatic. Chris uses Treasure Data to manage Mattel's app and gaming pipeline and he said "the new CDP interface makes it quick and easy to reach the most frequently used locations optimizing our workspace."  He added "that the clean, thoughtful design makes it simple to manage workflows and create new queries all on one screen."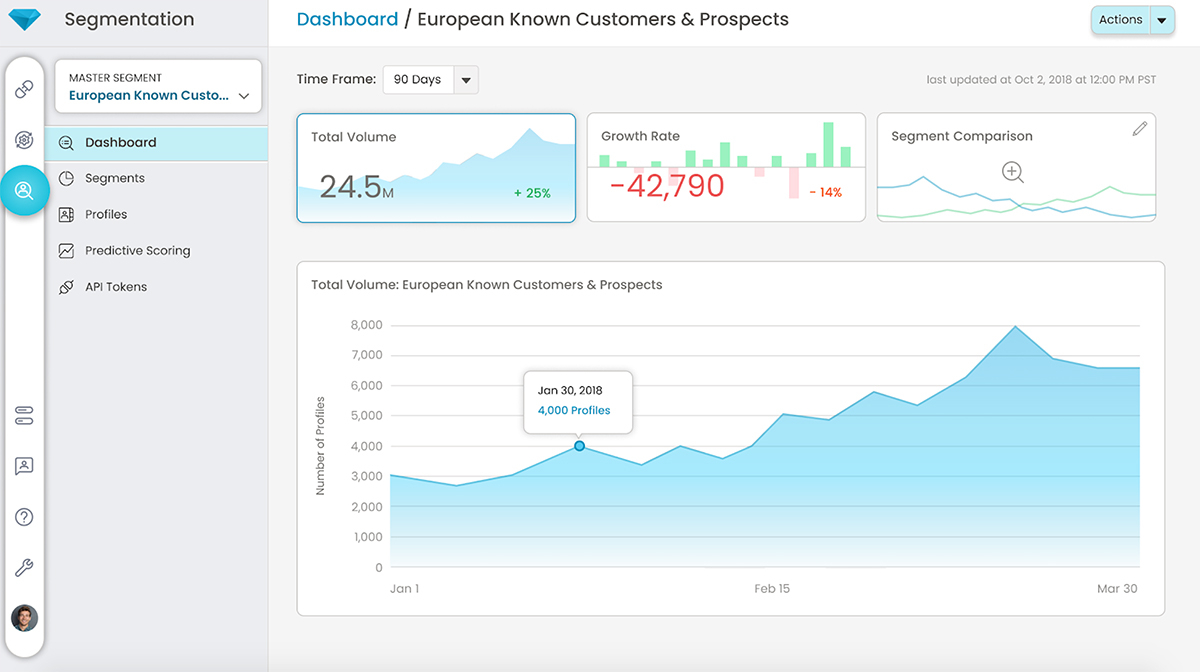 Other updates to our enterprise Customer Data Platform include:
Policy-based Permissions

We're continuing our legacy of security with new privacy enhancements to empower administrators for better compliance to increasingly stringent regulations. Policies can be set for users based on roles, divisions or any other permissions classification.

New Integrations and In-app Insights

We've increased the number of integrations to empower both marketers and data analysts. New integrations include, Box, Snowflake, Sansan, Mailpublisher and Karte. Treasure Data is also able to track in-app purchase events for Android and Unity, delivering previously unattainable buying behavior from mobile and gaming users for better informed marketing activities.

European Expansion

Our first EU data center is online and provides secure services to the greater European region. This was a key investment in our plans for regional expansion of our enterprise CDP.
Data is the backbone of marketing today and breaking down data silos should be a priority for CMOs. CDPs were developed to automate the processes of securely collecting customer data across the enterprise, while unifying it for individual buyer profiles and activating it throughout the business systems you already own. Learn more about our new features here or register for our upcoming product webinar.