6 Gaming Trends to Watch Now: Get Ready for a Revolution

6 Gaming Trends to Watch Now: Get Ready for a Revolution
Each decade since the 70s has seen monumental changes in video games, but everything thus far will be a blip compared to what's coming in the next few years. Recently at GDC, I shared my views about the factors shaping the next generation of gaming, and I'm not the only one excited about what's coming next.
I believe the gaming industry will see a total transformation beginning in 2021, thanks to six converging trends set to create an explosion of revenue opportunities for game developers and marketers alike.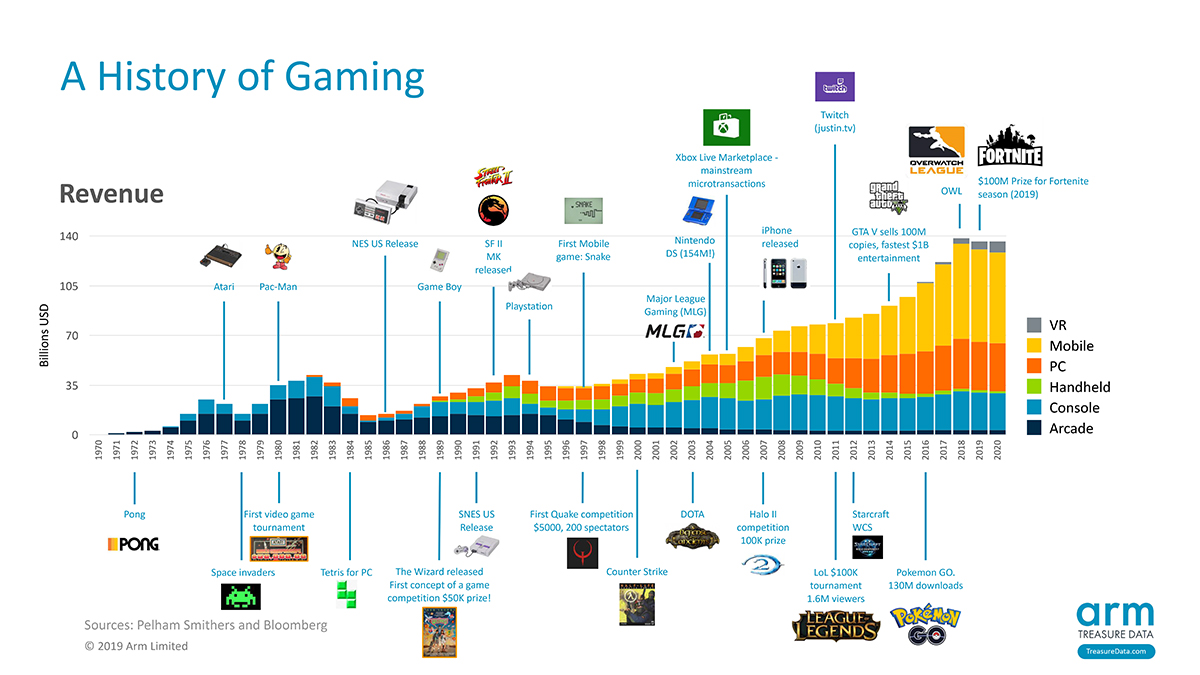 The advent of mobile changed the gaming landscape. Thanks to six new trends, we are about to see a total transformation of the gaming industry again. Click to download pdf.
Trend 1: The Rise of 5G
The seemingly small, single-digit name change from 4G to 5G doesn't do justice to the cellular data capabilities heading our way. What does this mean for gamers? Mobile games have always been limited by latency, currently around 10 milliseconds on 4G tech. That might not seem like a lot to a layperson, but it's an eternity when it comes to competitive gaming.
5G will drop latency down to less than 1ms, opening the door for new possibilities. We've already seen developers testing the waters of cellular, cross-platform play with games like PUBG Mobile and Fortnite Mobile, but 5G will throw open the floodgates.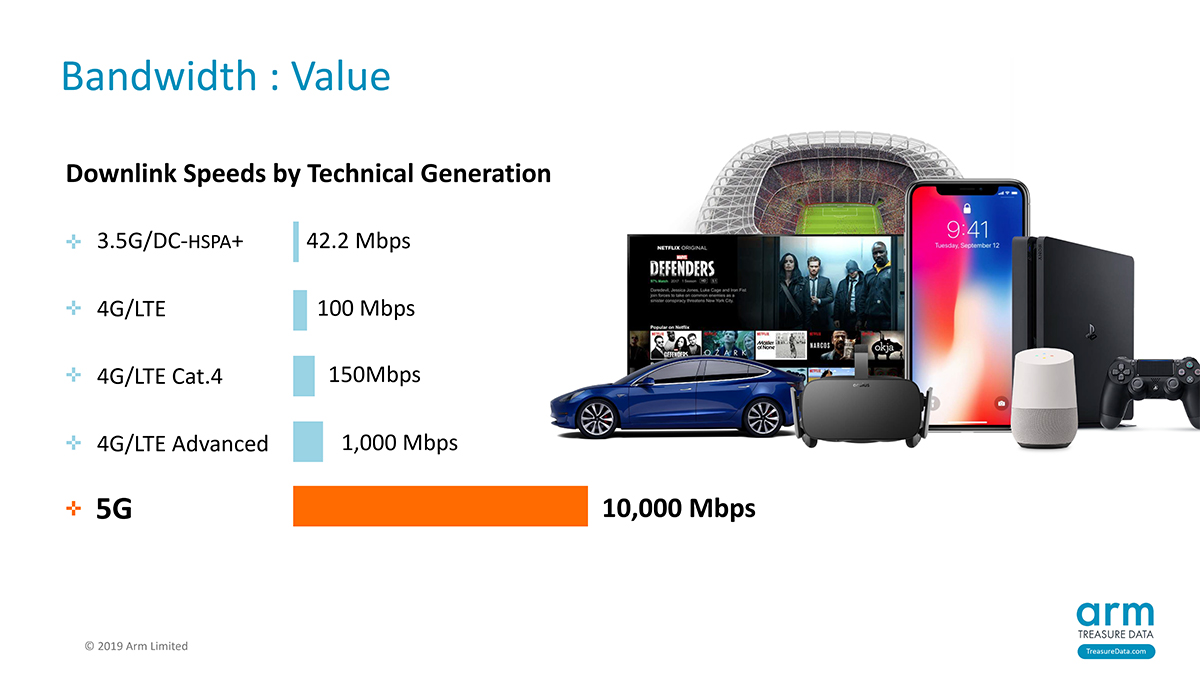 The data speeds of 5G will open up incredible possibilities for gaming, entertainment, and connected devices. Click to download pdf.
When global 5G adoption goes mainstream around 2021, mobile gaming will show even more remarkable growth than it's already demonstrated. In the last 40 years about 1.5 billion video game consoles have been sold, but in the last 10 years more than 2.2 billion people have used their smartphones to play games. 5G will only increase that number by dramatically improving the mobile gaming experience.
Trend 2: The Proliferation of AR and VR Realities
Mobile gaming isn't the only gaming frontier facing a transformation. Augmented reality (AR) and virtual reality (VR) gaming have both made leaps and bounds since their inception, redefining the term "immersive gaming experience."
2016 saw the release of Sony's PlayStation VR and Nintendo's popular AR mobile game, Pokémon GO. Neither came without kinks and bugs, but they each shared a glimpse into future technologies and revenue streams. In 2016, VR and AR grossed $1.8 billion and $1 billion respectively; in 2021, those numbers are projected to be $19 billion and $20.3 billion.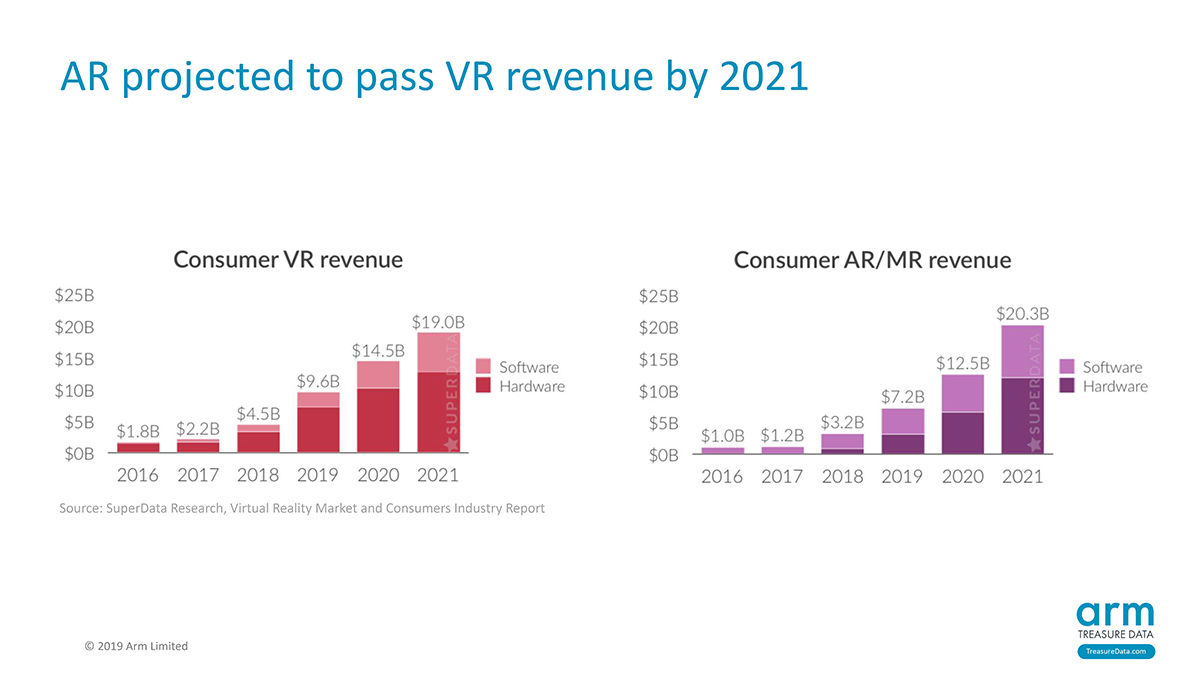 With steady technological development, AR and VR gaming have proven to be a viable part of the gaming market and their presence will only grow. Click to download pdf.
Trend 3: Major Market Millennials
Just as changes are occurring in the way people play video games, the people playing them are also transforming. Long gone are the days when video games were strictly marketed to skateboarding teenage boys with backwards-facing caps.
Today, 45 percent of U.S. gamers are women. The average age of a gamer is 34. And the average household has two gamers.
Millennials became the largest generation in 2016. By 2021, they'll hit their peak purchasing power and will be the prime gaming demographic.
Trend 4: Streaming and Spectatorship
If you think it's boring watching other people play video games, think again. Gaming has become mainstream entertainment as a spectator sport. Video streaming services have been incubating for 15 years, and the confluence of social media, streaming sites, and great competitive titles has allowed eSports and streaming to expand rapidly across the globe.
Whereas the player base has been growing at a 10 percent average annual rate since 2015, the spectator base has been nearly doubling! In 2017, eSports had a total revenue of $655 million. In 2021, that number will be closer to $1.6 billion.
Trend 5: Gamification—Blurring the Line Between Fun and Shopping
Not only are game makers increasingly offering premium play and virtual objects sold for real-world money, but with brick-and-mortar retail under tremendous pressure to bring customers back into stores, experts are recommending fun, game-like experiences to lure shoppers into malls again. Some, like Japanese retailer PARCO, provide interactive gaming apps that reward shoppers with "coins" and discounts if they visit certain stores and interact with the store and the app in some way. Others offer interesting AR and VR experiences, like L'Oréal's VR promotion for the Diesel brand. Titled "The Edge," it provided a VR experience for Diesel's aptly named "Only the Brave [fragrance] for Men." Participants walked along the ledge of a skyscraper that appeared to be 1,500 feet high, until they were close enough to reach through a "window" in the exhibit and grab a bottle of the fragrance.
Trend 6: Data Analysis and Insights Could Make Games Even Better—And More Profitable
Finally, games are becoming more data-driven. For example, Survios used data to optimize the player experience. And it paid off: The Survios game Raw Data was the first VR-exclusive game to reach number one on Steam's Global Top Sellers list and the first VR game to make $1 million in a month. The data analysis was made possible by Treasure Data enterprise Customer Data Platform (CDP), in an effort focused on behavioral data to ask questions such as:
Are an appropriate percentage of players actually playing through the entire game or is there a higher churn rate on specific levels?
Where are players launching from? The Steam store or through Oculus? Are players holding something?
Are they grabbing something? Are they left-handed or right-handed? Are they using the Rift or HTC?
Which players continue to come back to a game and invest a consistent chunk of their time in the game?
Other game makers are interested in how to encourage in-app purchases such as weapons and spell protection, something that can draw in profits in a "freemium" business model. And data is at the center of those efforts, too. By using a CDP to piece together a full view of each gamer and what he or she likes, game makers hope to discover what's likely to be the next trend taking the gaming world by storm.
Prepare for a Changing Industry Now
Two years isn't a long time, but a lot will be happening in gaming between now and 2021. Treasure Data is preparing businesses to face the video game landscape of tomorrow, largely because of our expertise in the realms of customer data, AI, and IoT. To learn why some of the biggest names in gaming trust Treasure Data to help create personalized experiences that increase revenues, request a demo, visit TreasureData.com, or call us at 866-899-5386.