How to Choose the Right CDP

How Can I Choose the Right Customer Data Platform (CDP)?
As businesses increasingly use customer data to personalize customer journeys, they're finding it takes a lot of AI, data-handling expertise, and sheer algorithmic and computational power to efficiently create perfect profiles in near real time. So if you don't yet fully understand how a customer data platform (CDP) can transform your customer experiences and your marketing, it's time to get up to speed.
Most, if not all, businesses can benefit from understanding and managing customer relationships at scale, something CDPs handle exceedingly well. But while many data management tools describe themselves as CDPs, only a few have the features most marketers need. How do you tell which CDP is best for your business?
CDPs Are in Demand Because Customers Are More Demanding Than Ever
Customer engagement and satisfaction have never been as important as they are today. Smartphones, tablets, and social media platforms have given customers unprecedented levels of control over the shopping experience. Companies must bend over backwards to deliver the best experience possible, knowing that customers are constantly comparing prices, reading reviews, getting advice from friends, influencing others, and looking for more convenient ways to purchase goods and services.
Because customers hold so many of the cards today, CDP growth has exploded in recent years. From the end of 2016 to the end of 2018, the number of CDP vendors more than tripled, creating the billion-dollar CDP industry we see today.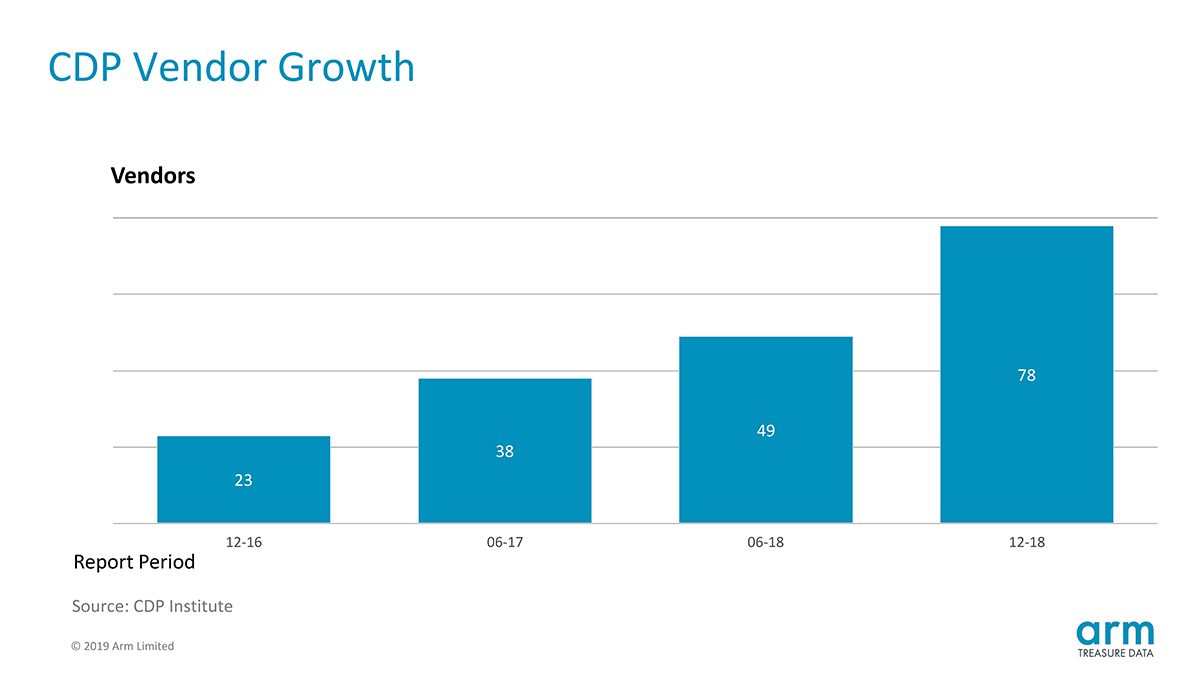 CDP growth tripled from the end of 2016 through the end of 2018. Click to download pdf.
What to Look for in a Good CDP
While businesses have more CDPs to choose from, not all CDPs are created equal. Every CDP should help your business unify its first-party data—the data you own—from sources such as mobile apps, eCommerce transactions, loyalty programs, social media platforms, IoT devices, and even trade shows and other events. In addition, good ones come pre-integrated with some of the most common types of data streams—from mobile apps to CRM to other martech—making it easier to use all of the data you collect and use.
The best CDPs help marketing professionals classify first-party data by country and business unit, and also pull in data from second- and third-party sources. By providing access to demographic information (income, occupation, gender, ethnicity, etc.), weather data, and data on interests, meaningful holidays, and events, marketers gain the ability to target offers and promotions in a more meaningful context.
From a logistics perspective, a good CDP limits involvement from IT, beginning with the initial setup, when data is being loaded and integrated, all the way through to self-service reporting and analytics. The best CDPs really almost end up running themselves, eliminating the need for having to initiate a Jira ticket every time you want or need to look at data.
Other things to consider when evaluating a CDP partner include being able to add or remove different martech solutions with minimal disruption and being able to use the CDP as a gateway to customer-related artificial intelligence. The martech industry is becoming increasingly complex and dynamic, and a solution-agnostic CDP gives you the flexibility to remove outdated solutions and deploy new ones without causing any data unification headaches.
When all is said and done, the best CDP for your business will be the one that allows you to fully analyze data across channels, and act upon it in ways that improve the customer experience.
The chart below shows how the best CDPs are architected. The key is to be able to integrate data from your first-party sources, including channels, as well as second- and third-party data sources, and act on that data to optimize the lifecycle of each individual customer.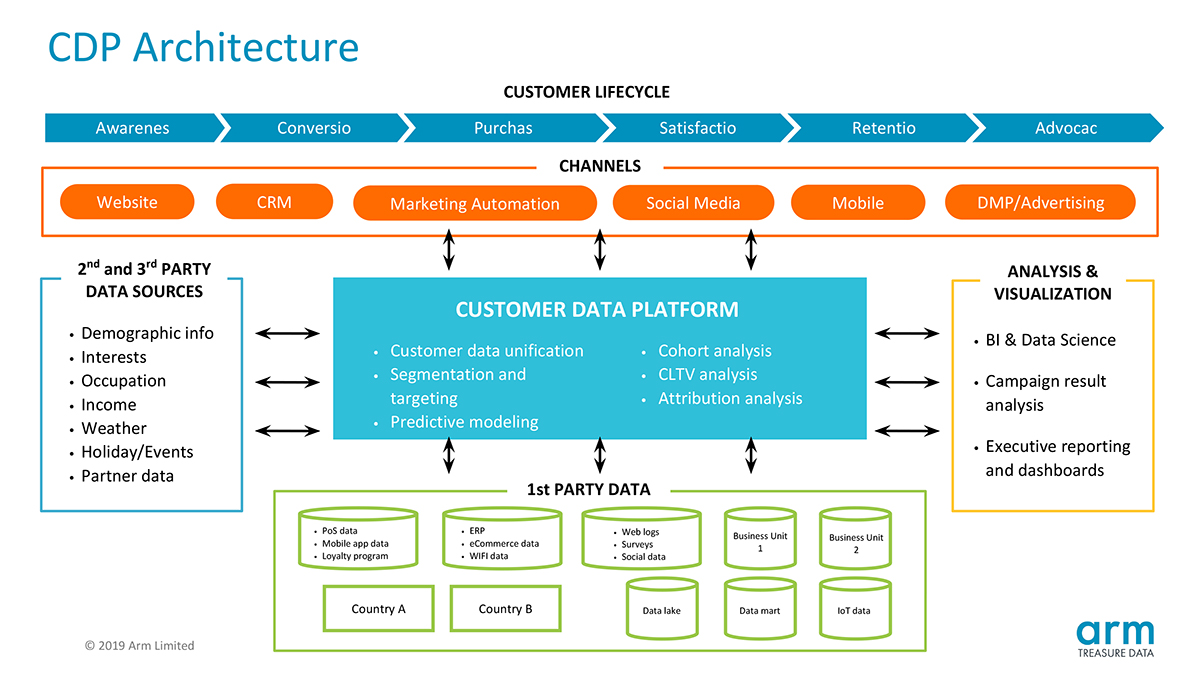 A CDP unifies data related to customers so marketers can analyze it and activate it across the customer lifecycle. Click to download the PDF.
How Do You Use a CDP to Orchestrate and Personalize the Customer Journey?
When your customer data resides in a centralized CDP and is continually updated in real time, a world of possibilities opens up around visualization and analytics. With the right CDP data in place, you'll be able to create relevant dashboards and generate the reports you need for effective campaign results and customer segmentation analysis.
The chart below shows how Subaru's digital marketing team uses the Treasure Data enterprise CDP to better manage the customer lifecycle from end to end. The team began by unifying customer data from the MySubaru loyalty program, dealership visits, service histories, campaign engagement, social media interactions, and advertising impressions. Subaru is using that data to predict purchase behavior and improve the delivery of content and messages to targeted buyers at the right times.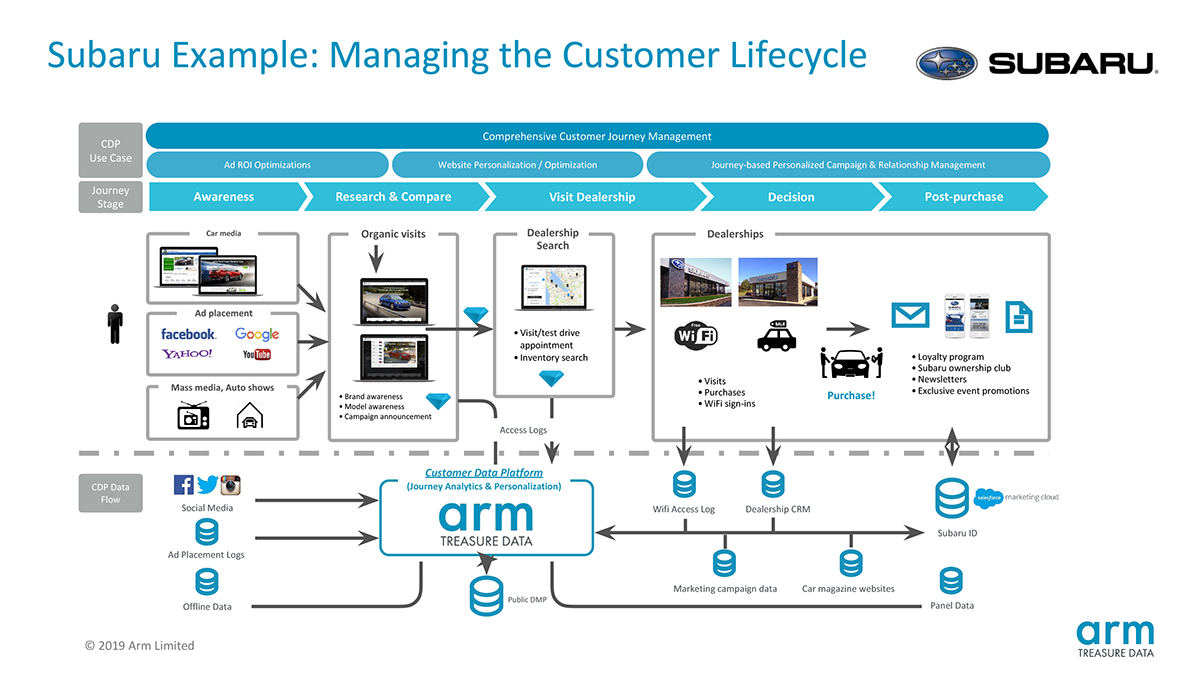 Subaru uses the Treasure Data enterprise CDP to send personalized content and messages to the right buyers at the right time.
With our CDP, the automaker has been able to track individual customers across systems and better understand their buying journeys. As a result, the marketing team achieved a 350-percent increase in click-through rates and achieved a 15-percent order rate increase from one campaign that netted $26 million in additional sales.
Before its data was unified, Subaru's digital initiatives struggled to gain traction. Budget was wasted because personalization was ineffective, if not impossible. But today, by being able to provide actionable insights—especially at the dealership level—the marketing team's role within the company has been elevated.
Subaru is just one example that highlights the power of a CDP to effect positive change. While Treasure Data customers span a wide variety of industries, many of them share common CDP use cases, showing how a CDP can be such a transformational technology. From audience-building to social advertising, see the table below for the most common ways that CDPs add value to marketing organizations across industries.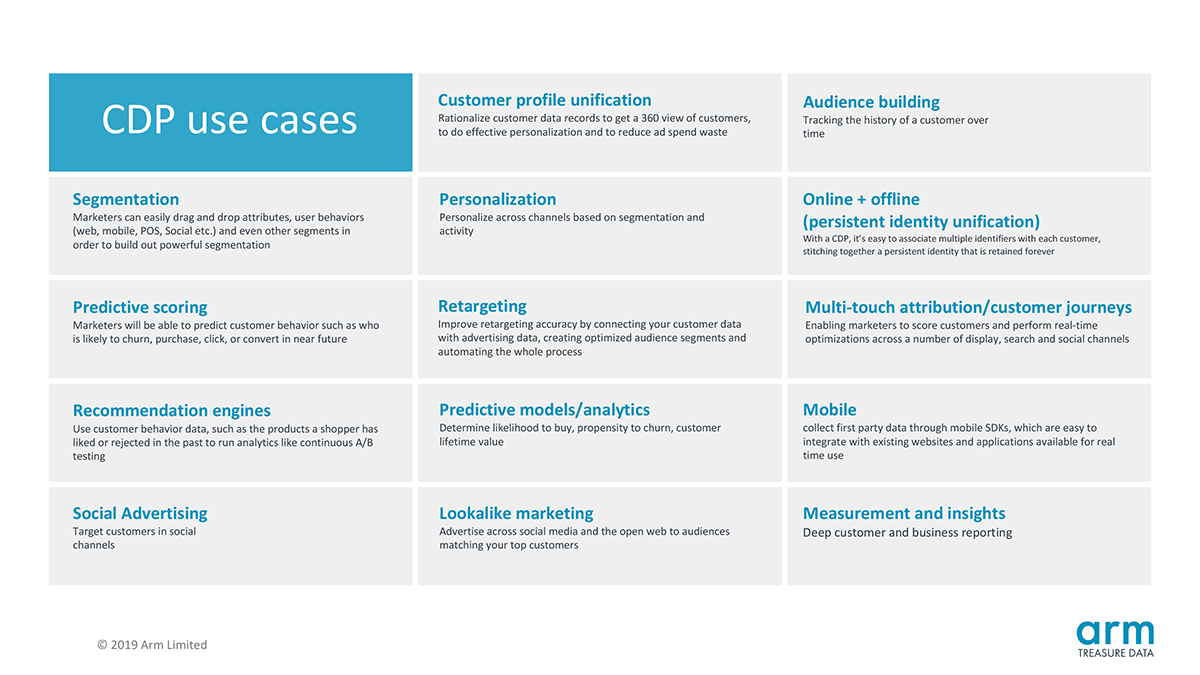 Enterprise organizations in a wide variety of industries share many common CDP use cases. Click to download pdf.
When Is the Best Time to Get a CDP?
One of the biggest misconceptions about CDP implementations is that you have to get your data house in order first. We think that sort of defeats the purpose of getting a CDP, and we have a proven track record of helping our customers define the most meaningful use cases and then identifying the data sources needed to fulfill them.
So really, the best time to implement a CDP is now. A proof-of-concept can be done in a matter of weeks, and since the CDP technology sits adjacent to your systems—deploying a CDP is not a rip-and-replace proposition—it doesn't have to change your workflows.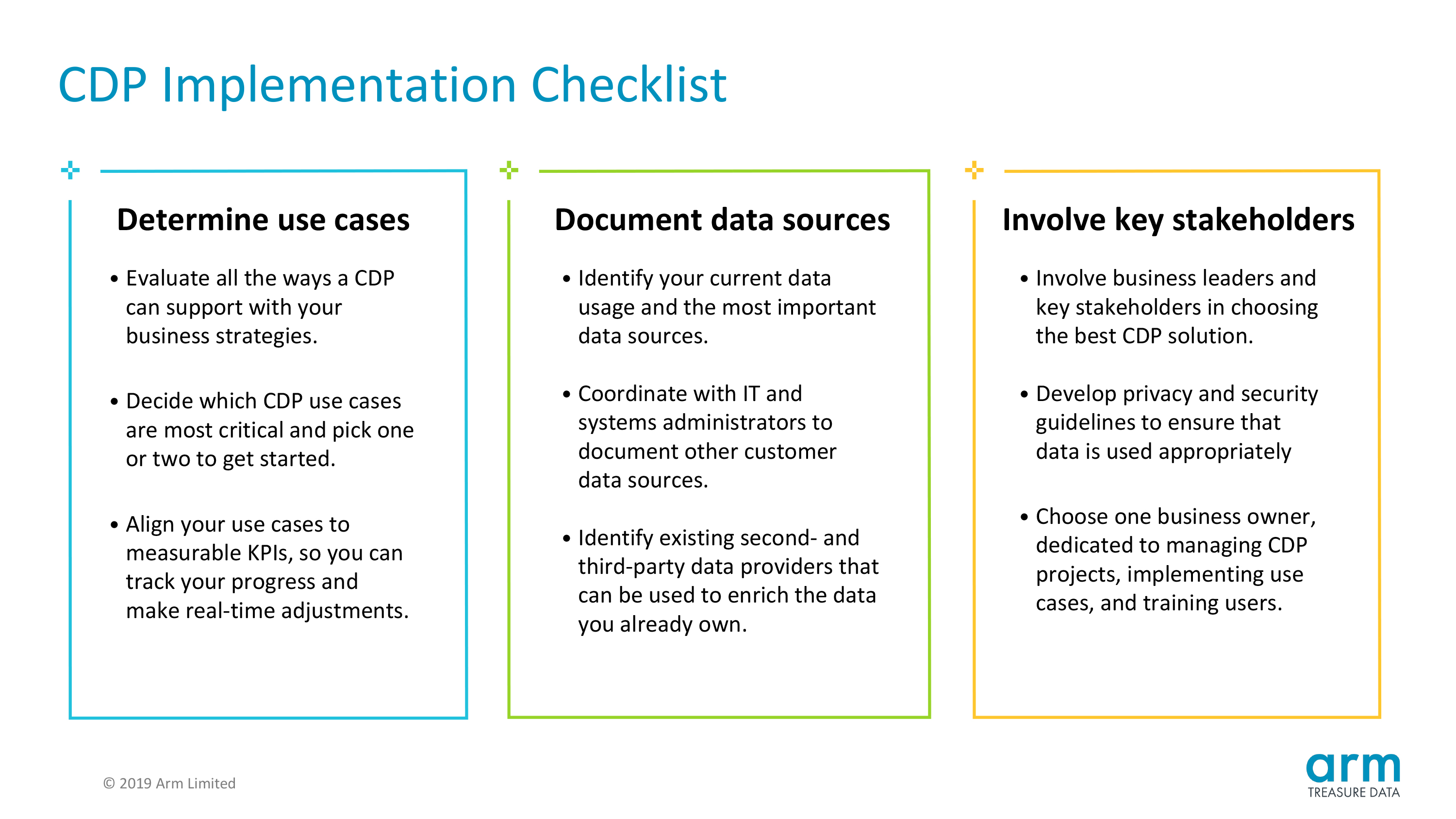 With a little advance preparation, in conjunction with a trusted partner like Treasure Data, you can get your CDP up and running fast. Click to download pdf.
So now that you know what a CDP is and why you need one to maintain a competitive advantage in a data-driven world, we hope you'll consider partnering with Treasure Data. We'll guide you through the entire process to ensure you get the best results possible. To learn more, request a demo or call us at 866-899-5386.
To learn more, check out these articles on the Difference between CDP vs. DMP and CRM vs. CDP.
Learn more. Watch our 20-minute webinar: What is a CDP?