Why CDP: What's Driving Demand for Customer Data Platforms?

Why CDP: What's Driving Demand for Customer Data Platforms?
Learn more. Watch our 20-minute webinar: What is a CDP?
If you've been paying attention to marketing news, you've heard the term "customer data platform" or "CDP" a lot lately. The number of CDP vendors at the end of 2018 was more than triple what it was at the end of 2016, according to the Customer Data Platform Institute. Most recently, Adobe and Salesforce announced that they plan to come out with some CDP capabilities of their own. The growing popularity of this category—and disparity as to what specific vendors mean by "CDP"—is so great that it's prompted the CDP Institute to create clarity with the RealCDP Certification, revealed at MarTech West in April, to establish criteria that solutions must meet for the CDP Institute to consider them true CDPs.
CDP adoption is clearly on the rise (and if you're confused, you're not alone). Many marketers are unclear about what's driving demand for CDPs, and whether or not their enterprises even need one. In a recent webinar, we examined a few reasons why companies are turning to CDPs. Here are six reasons demand for CDPs has grown so quickly in the last couple of years:
#1: The Threat of Technology-Driven Disruption
A staggering 89% of executives worry about technology-driven disruption, according to a global survey conducted by Forbes Insights and Treasure Data. Disruption can happen in almost any industry, as companies with radically different, technology-based business models quickly overtake and outcompete established players. Wary executives see cautionary tales in disruptive, data-driven companies such as Retail (Amazon, Wish), Transportation (Uber, Lyft, Lime, etc.), Hospitality (AirBnB, Trivago), and Entertainment (Netflix, Spotify).
To combat new entrants, traditional companies need to adopt the playbooks of the digital native disruptors. This includes using data as a strategic asset—especially data related to customers (and prospects). CDP platforms help companies quickly unify customer identities from disparate systems, for analysis and segmentation, as well as for activation.
#2: Relevant Customer Experiences at Every Touchpoint
"Customer experience is the new competitive battlefield," according to Gartner, and companies from every industry have realized that building a strong customer relationship is a key competitive advantage that separates leaders from laggards. Knowing whether a website visitor is a new prospect or an existing customer, and being able to personalize based on this insight, is an example of how this fight will play out in terms of providing relevant experiences that benefit both the customer (or prospect) and the company. Companies need to fully understand their customers (with unified customer data) so they can deliver meaningful experiences at every point along the customer journey. Learn about Gartner Customer Data Platform research here.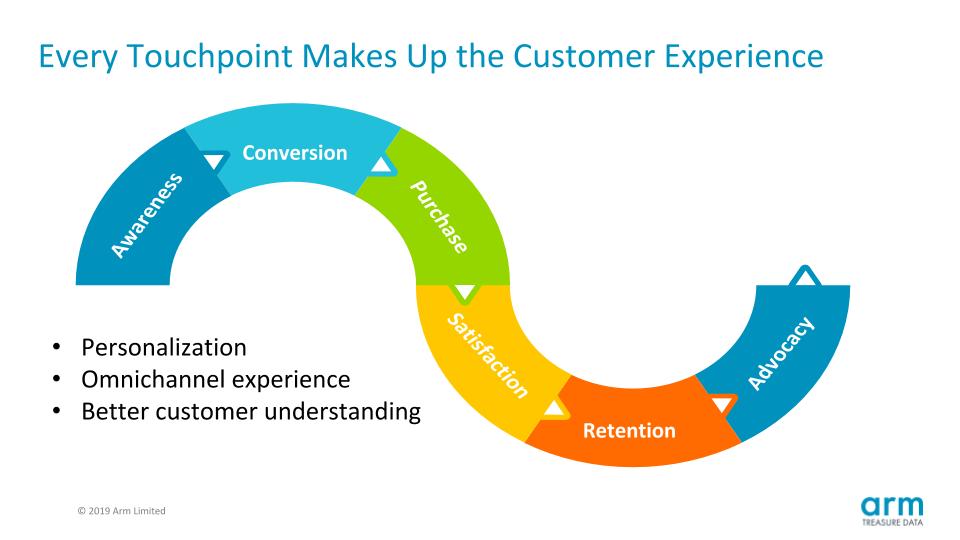 Successful companies strive to understand customer behaviors and create meaningful customer experiences. Click to download pdf.
#3: Martech Stack Complexity Outpaces Organizational Capabilities
According to Scott Brinker, VP Platform Ecosystem at Hubspot and author of the regular blog, "Chief Marketing Technologist" at chiefmartec.com, "Martec's Law" holds that technology in the martech stack grows in complexity in an exponential fashion, while organizations change logarithmically.
This means that martech stack complexity outpaces the capabilities of the team to effectively manage, optimize and succeed with that technology. Part of this growth in complexity is that rich data is constantly being created within each tool. Without a way to collect, unify and analyze that data in one place, the organization is awash in siloed data that it can't effectively use. CDPs help marketing and martech organizations centralize one of the most important data assets they have—customer data.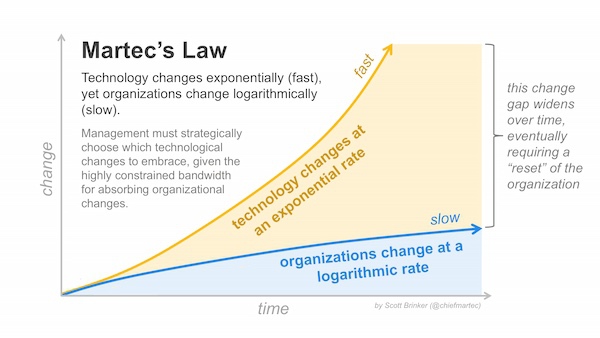 Businesses need to manage change more effectively. Click to learn more.
#4: Data and Analytics Changes Impact Sales and Marketing the Most
According to a recent study by McKinsey, the importance of data and analytics is growing for all functions in a company. When they surveyed high-level executives on the topic, the findings revealed that marketing and sales departments are most impacted by this trend, requiring advanced data and analytics solutions, as well as skill sets.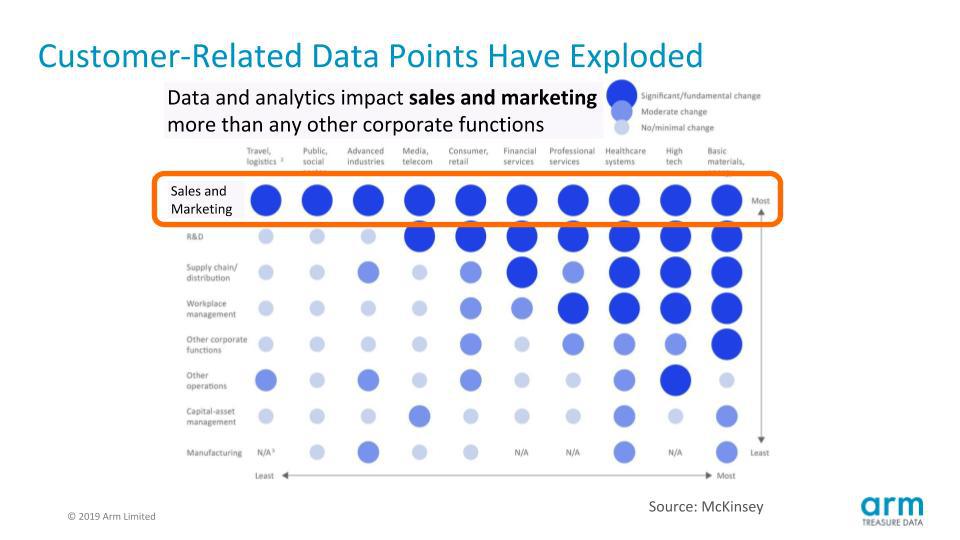 Across a wide spectrum of industries, sales and marketing are the corporate functions most impacted by data and analytics, according to McKinsey. Click to download pdf.
Traditional IT-managed marketing databases are too inflexible and slow, and aren't suited for exploration or the frequent need to add new data sources (such as a new martech tool). Submitting a Jira or ServiceNow ticket for a customer report is no longer an option for agile marketing or CX organizations. By the time the IT request has been resolved, opportunities have usually already been missed. This need for an agile, marketer-centric customer data management platform has led to demand for Customer Data Platforms.
#5: Customer Data is Siloed Today
Whether it's a modern marketing stack or a stack full of legacy and homegrown systems, there's an explosion of customer data being collected, usually in silos designed and optimized for specific functions. Loyalty program databases, CRM systems, PoS systems, customer support systems, web logs, EMSes, and mobile applications are all sources of valuable customer data. But keeping the data in all of these systems separate hides rich customer insights, and sometimes duplicates or creates inaccurate profiles that don't necessarily match those in the other silos.
To take control of growing martech complexity and to handle the explosion of data in these silos, companies are moving quickly to set up (or more often, buy) a CDP solution.
#6: The Promise of AI and the Need for Data
Company executives are counting on AI to support decisions, to deliver services and to provide better customer interactions to grow revenues and profits. In a survey by PwC, creating better customer experiences was the second most important area of AI for the execs surveyed.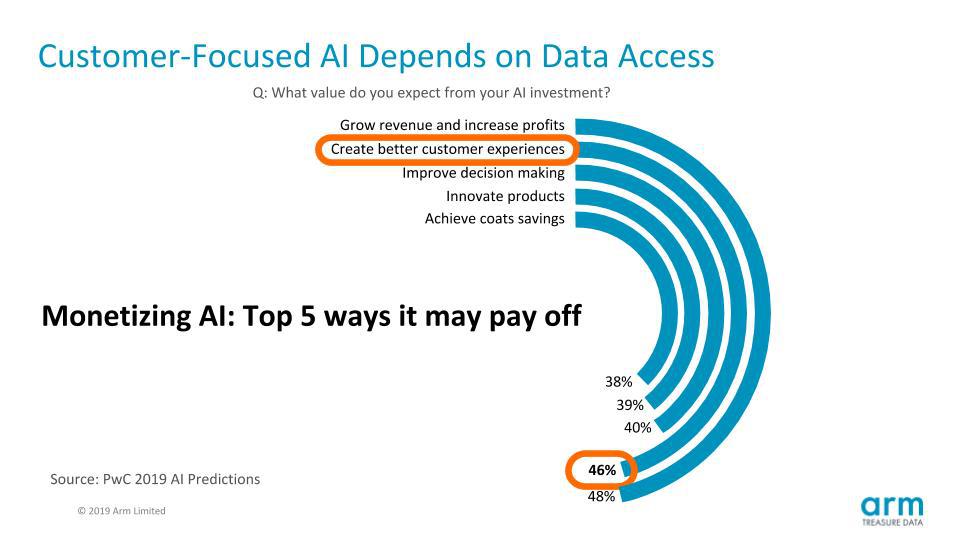 According to PwC executives are looking to AI to help create better customer experiences. Click to download pdf.
To deliver these new AI-enhanced experiences along all of their customers' personalized journeys, marketers need a clear understanding of who each visitor is (even if there are millions of them), and where they are in their own customer journey. There's no use delivering an interactive promotional experience to an ex-customer who just churned out or to pitch a new product to someone who already owns it. Using AI along the customer journey is therefore another key reason why companies are turning to CDPs to better understand who their customers are, how they arrive at key points in their journey, and what motivates them to buy (or keeps them from taking the plunge).
Also, to do automated, real-time segmentation or personalization at scale, processing high volumes of customer data and attributes in a useable format is critical. Siloed, incomplete or non-unified data will prevent effective segmentation and personalization using AI.
Why (and How) CDP Helps
To address these challenges, enterprise executives are seeking a "system that pulls customer data into one place, normalizes it, and allows you to use it across your different touchpoints," according to the CDP Institute. In other words, these six trends are increasingly driving marketing organizations to acquire CDPs.
With a single customer data repository, which can easily feed into different martech solutions, sales and marketing teams can manage the complexity created by disruptive new business models and breakthrough technologies, such as AI and machine learning.
There's also a distinctly human element to the value of a CDP. One way businesses can stay competitive in a dynamic marketplace is to get closer to their customers. Companies that have a far-reaching understanding of customer loyalty, customer churn, omnichannel behaviors, and personalization are more likely to deepen their customer relationships.
To learn more about how a CDP can help you survive in a changing marketplace and thrive in the future, watch our webinar, request a demo, or call us at 866-899-5386.