5 Ways IoT Customer Data Will Change Every Job in Retail

5 Ways IoT Customer Data Will Change Every Job in Retail
More than 20 years ago, websites changed how brands connected with customers. Ten years later, social media and mobile devices helped communication between them become a two-way street. Today, we're in the midst of a third technological transformation — the Internet of Things (IoT) — which promises to shift the relationship between customers and brands once again. And at the heart of this next revolution is customer data.
There are already more than 20 million connected devices, and that number is expected to hit 1 trillion by 2035. Many of these are already generating customer data, and as this trend intensifies and companies collect more consumer information, customers increasingly expect something in return.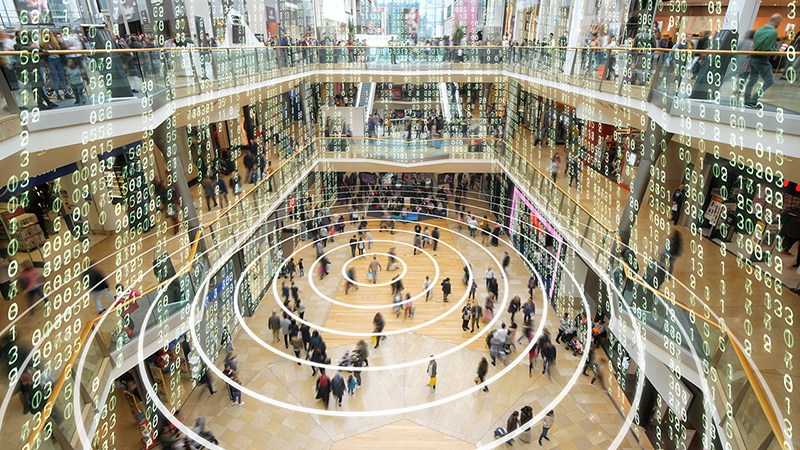 What do they want? According to Accenture, 81% of customers want companies to understand them better. And as companies get more adept at using customer data to build detailed customer profiles, they'll not only forge stronger customer relationships, they also have the opportunity to radically change the growth trajectories of their industries. One of the most exciting transformations ahead is retail.
Using the IoT for retail gives connected retailers a huge advantage
The IoT isn't a totally new concept. Companies have been talking about it since the late 1980s, when the first internet-connected toaster was unveiled. Essentially, the IoT refers to a network of "smart" physical objects and machines that gather electronic data and transmit it using internet protocol (IP). IoT objects and machines use embedded identifications, sensors, and software to understand where they are, what they're doing, and what's going on around them. They're also able to communicate with us and with each other, and it's this capability that makes them so valuable to retailers.
Even in the near term, by 2020 an estimated 30 billion IoT devices will be in use. The potential economic impact of these devices is motivating companies everywhere to invest in IoT technology to increase customer engagement. McKinsey Global has estimated that in 2025, the annual economic contribution of IoT will be between $3.9 and $11.1 trillion.
Connected retail: IoT customer data touches every retail job
Successful retail businesses are already using IoT technology in all aspects of connected retail: digital signage, infrared foot traffic monitors, RFID inventory tracking chips, beacons, and interactive kiosks, as well as on the smartphones and tablets used by store staff and customers. By connecting this data with customer information collected from Point of Sale (POS) transactions, web browsing habits, mobile apps, customer call centers, and more, Customer Data Platforms (CDPs) help retailers design a seamless connected-retail shopping experience for customers across every channel. While the possibilities are practically endless, here are five ways you can use IoT customer data to boost results and make your numbers.
Detect customer service problems early to reduce customer churn.

If you want to survive in today's cutthroat retail environment, it's crucial to have an effective customer service operation. Customers with problems who can't get answers quickly are likely to end up on social media, sharing their experiences and ruining your reputation. Thankfully, IoT customer data and connected retail systems can change this dynamic, revolutionizing customer service from the very first touchpoint. Research has shown that customers who feel that you helped them to resolve an issue without much extra effort on their part are much more likely to return than those who had to work hard to resolve their problem.

Currently, when customers have issues, they reach out to customer service via email, social media, or by phone — a time-consuming and costly process that they're likely to hold against the business that makes problem resolution hard. However, the tremendous expansion of the IoT means that connected retail devices and systems will soon be able to automatically initiate customer service interactions before customers have experienced frustrating customer service experiences.

For example, unique customer profiles can be directly linked to the products that consumers purchase. Powerful sensors embedded in these products then transmit data to retailers about problems or defects, so they can notify retailers about problems before they happen. Smart retailers can then reach out to customers via their preferred method of contact to address issues proactively.

And sometimes, you can even turn a potential complaint into a positive experience. Cameras can be used to match products on shelves to stockroom inventory in real time. If a customer looks like they're selecting a display item that might be out-of-stock, an alert can be sent to on-floor staff to proactively approach a customer with a suggested alternative, preventing the negative experience entirely.

Target your customers with in-store offers and discounts you know they'll probably want.

Regular customers appreciate being rewarded for their loyalty. Rather than bombarding customers with an onslaught of poorly timed offers or discounts on products customers aren't likely to care about, retailers can use IoT customer data to tailor unique offers for individual customers. Customer data such as POS history and website browsing records maximize conversion rates and provide incentives to keep coming back.

Imagine that one of your customers shopped for smart watches on your website. Or maybe on social media, they "liked" one of the smart watches that your store carries. When they visit your store, sensors can be set up to send targeted offers and discounts to that customer's smartphone as soon as he or she enters your store or stands next to, say, the electronics or smart watch section. Think of all the unnecessary marketing expenditures you'll avoid by taking a connected-retail approach, and how much impact this greater efficiency will have on your advertising ROI.

Use individual IoT customer data to tailor experiences to generate more sales.

As retail stores struggle to maintain or grow foot traffic, they're focusing on new ways to enhance customers' in-store experiences. This means there's a growing focus on creating highly personalized services and rich experiences that require high levels of interaction with products and staff. IoT customer data will increasingly be used to tailor how staff approach customers to offer support, suggest complementary products, and more.

Retailers are just starting to reap the rewards of personalization strategies that use customer data. An oft-cited extremely effective early example of data-driven apparel retailing is the Rebecca Minkoff fashion brand. In 2014, the company rolled out "digitized mirrors" that help shoppers pick out items to try on, request different sizes or styles, and even get styling advice. Personal stylists deliver clothing and can communicate with shoppers via texts, which can be used to discern customer preferences. When these types of experiences are connected with individual customer profiles — such as their demographics, their purchase history, and online browsing habits — the result is a vastly improved understanding of each and every customer that fuels repeat buying and brand loyalty.

Use IoT customer data to streamline checkout, and offer no-wait times.

Long checkout lines can deter customers from making purchases, and in some cases, even chase them away from going into retail stores. According to one study, 41% of shoppers abandon their carts when waiting in line takes longer than nine minutes, and 86% avoid stores when they see that lines are too long. IoT customer data can help to prevent frustration and save time. One simple strategy is using in-store systems to identify long wait times. Customers who have opted-in to notifications can then receive texts about current wait times and alternate locations where lines are shorter.

IoT customer data can also speed checkout. Apple stores are a good example of this connected-retail strategy. By connecting customer data with staff devices, Apple helps customers to easily check out anywhere, with staff accessing customer profiles and payment information with a few taps and emailing customers their receipts.

Retailers are coming up with creative, disruptive connected-retail strategies. For instance, customers arriving at stores could instantly connect their smartphone with a Bluetooth shopping cart. As they shop, the cart would tally items put inside the cart. At the exit, the app would prompt customers to finalize the purchase with a tap. Amazon Go stores have already taken this concept to the next level, eliminating checkout altogether. Videos and sensors combine with customer profiles and purchase patterns to help Amazon stores make predictive guesses about which products customers are placing in their baskets.

Capture repeat sales before customers know they're running low, with auto-ship.

Currently, one of the most basic ways that IoT customer data has already been put to use is auto-replenishment through devices like Amazon's Echo and Dash. Purchases can be made simply by asking or pressing a button. And Amazon isn't the only retailer rolling out these services. Staples, Walmart, HP, and others are also getting involved, auto-shipping printer paper, food, and more.

As the technology improves and integrates customer data with machine learning (ML), expect to see further advancements. Soon, sensors and cameras embedded inside such products as refrigerators and printers will be collecting data about customer usage and behavior. In the future, they'll be predicting when food is going bad and when new toner cartridges should be sent out — and sending those goods out automatically to provide a seamless experience. This kind of convenience not only cultivates better long-standing customer relationships, it also improves retailer production efficiencies and reduces logistics costs.
CDPs: Here to help you use IoT data to sell more NOW
The future of IoT big data for retail isn't far away; it's already here. The best way to prepare for the coming tidal wave of IoT customer data — and take advantage of its endless potential — is to deploy an advanced Customer Data Platform (CDP) to help you automate as much of the information management and connected retail processes as possible. By combining customer data from various silos — such as POS, website browsing, in-store WiFi, and smartphone apps — retailers can align online and in-store strategies to deliver a consistent customer experience at every interaction. Legacy customer data systems are ill-equipped to handle this new IoT era, so if you want to stay ahead of your competition, check out this eBook to learn How To Survive the Data Deluge.