Fix the Last-Yard Retail Sales Problem with Omnichannel Personalization

Fix the Last-Yard Retail Sales Problem with Omnichannel Personalization
How much more could retailers sell in-store if they really knew each individual customer before approaching? What if associates could see what each customer had recently browsed online, how much they'd bought before, which ads and social media they'd seen, what they wanted, and what to do to engage them—before they ever met the customer face-to-face? And what if retailers could see what each customer actually did while they were in the store, including all the aisles they visited and the shelves where they stayed longer?
Wouldn't that would be a real retail revolution?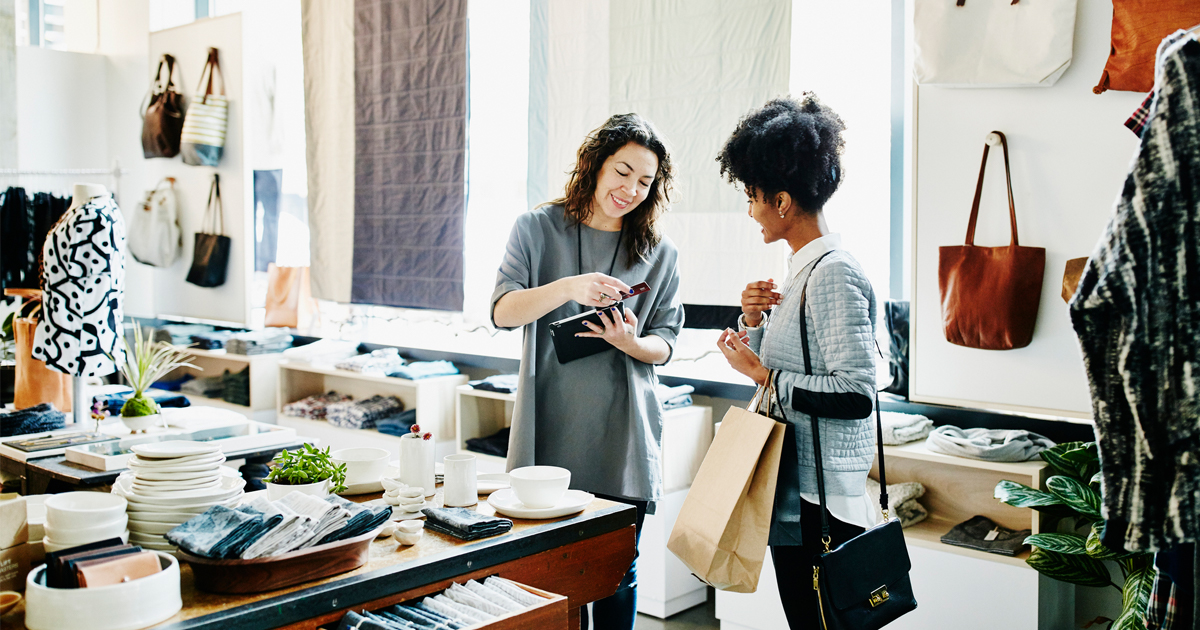 It's within reach now. New technologies—including the Internet of Things (IoT) and customer data platforms—are providing mind-bending ways to use customer data for high-end retail clienteling, hyper-localization, and targeted personalization of offers. This "omnichannel personalization" strategy is already reaping rewards for retailers, as well as for the gaming industry, publishing, and many major brands.
Retail's Last-Yard (Last-Meter) Sales Problem: 3 Feet Away and No Clue Who Customers Are
Telecommunications and shipping have long struggled with the "last-mile problem"—how to get service from the closest distribution center to each individual user. Similarly, many retail and major brands still grapple with the "last-yard" or "last-meter" customer data problem: Most retail associates have no idea who a customer is, what they want, or which loyal customers to focus on in the store. That customer data sits in many other platforms that don't talk to each other, invisible or unusable on the handhelds the associates use. So even if they're standing less than three feet away, associates are blind to all of this data that probably already lives somewhere in the organization.
Plus, data about how people actually shop—including the paths they take through the store, what they picked up and put down, how they used their phones or other personal devices—is almost always lost or unused, despite all the sensors, beacons, and cameras now used in retail.
New Collaboration Provides Personalized Answers Directly to Associates' Handhelds
That's changing now that the Arm Retail solution offers an In-Store Mode software development kit (SDK) that connects the award-winning Treasure Data CDP, a customer data management platform, with the Reflexis ONE platform. The In-Store Mode SDK incorporates sensor fusion, in-store beacons, and indoor maps to capture in-store shopper behavior from the retailer's mobile app.
The Arm Retail solution uses the customer data already collected—from email platforms, loyalty programs, CRM, previous purchases, social media, web browsing, data from mobile apps, and increasingly, from sensor fusion, beacons, and indoor maps—to "know" each individual customer.
Using the Arm Retail solution SDK, Reflexis customers can now show associates tasks based on each individual customer's data from all customer data sources, such as average spend by each customer and loyalty info—all presented on easy-to-read dashboards tailored for each retailer's handhelds.
And, the same SDK can be used to develop highly customized apps for any of the hundreds of large retailers–many of them huge chains–using the Reflexis system.
Change the Game with Clienteling and Hyper-localization
For retail, this customer data personalization trend is a game changer. Just think of the implications for clienteling, when you know that a customer headed toward the designer coats right now regularly drops tens of thousands on apparel and footwear. Retailers can also hyper-localize planning and merchandising for local-community preferences and for its most engaged, profitable shoppers.
Why'd They Look But Didn't Buy?
And when a shopper browses in-store, but doesn't make a purchase, the Arm Retail solution captures shopper dwell-time and engagement-at-shelf. The data is enriched with the customer's opted-in digital and social data, and used to deliver personalized offers to the shopper—either via the retailer app when in-store or for the next store visit.
Expect More Omnichannel Personalization with the Growing IoT Wave and Pressured Retailers
Using data from a myriad of sources—including IoT data from consumers' personal devices, in-store cameras and beacons and geofencing—will doubtless become more commonplace as technology such as CDPs become more popular solutions to the data management problem posed by more than 30 billion connected devices by 2020.
Winning with Retail Personalization—And Associates Armed with the Right Customer Data
It's an approach that's now working for traditional retailers, big consumer brands, games makers, and online retailers. The 2019 Forbes survey, which confirms and advances many of the trends it found in its previous "Data vs. Goliath" report, makes it clear that savvy retailers understand the promise of personalization: A chance to fight back against the mega trends buffeting their businesses, and a path to the win.
For example, PARCO uses the Treasure Data CDP for omnichannel retail personalization—with geosensors, IoT, mobile apps and loyalty programs—to boost sales, customer experience & CLV. Geofencing and other tracking sensors know when customers arrive at PARCO malls in Japan and other Asian locations.
This information triggers a series of highly personalized interactions and offers—everything from rewards if customers play their "POCKET PARCO" walking game taking them on a retail scavenger hunt, to special discounts triggered when customers approach a particular store. Customer reactions to these personalized offers, games and other customer behavior become part of each customer's "golden profile," for use in later targeting and segmentation, as well as in new interactions.
Omnichannel Personalization is a Winning Retail Strategy
This omnichannel personalization strategy has yielded a myriad of important insights into how customers actually behave, and what they really buy—in-store and online.
"Before, shopping centers such as ours did not have a way of knowing the entrance a customer takes to enter the store, which shops the customer stops at, and whether or not any purchases were made there. But the use of the app is helping us make sense of customer activity and personalize our interactions for each customer," says Hayashi.
For PARCO and other retailers who've adopted a CDP-based, omnichannel personalization approach, the rewards have been great, with sales increases in-store and online, more revenue per customer, and greater customer loyalty.
And for brands that sell through retailers, sharing data with retailers and leveraging it to boost sales and increase CLV helps everyone—brands and retailers alike—to succeed. See how, in this free special report on omnichannel retailer-brand data sharing, The moral: Going that last mile to know the customer solves your last-meter sales problem.