Create the Ultimate, Actionable Marketing Dashboard

Create the Ultimate, Actionable Marketing Dashboard
Ever feel overwhelmed by marketing reports? Think that maybe you're not getting the right data—or maybe not all of it? Frustrated with how long it takes to interpret your reports, so you and your team can make a sound decision? Or maybe you're just tired of 12 different reports from 12 different systems.
If you've ever felt this way, you're not alone. We've heard data scientists lament over drowning in a torrent of data while still feeling like they are missing the complete picture. Lots of marketers have a love-hate relationship with their martech stacks, in part because it's so hard to track the metrics that come from dozens of marketing tools.
This leads to a huge amount of confusion and manual work for marketers when reporting on the success of lead gen, advertising campaigns, email outreach, and events.
A good marketing dashboard—one that provides accurate and actionable information—can help keep sales and marketing teams accountable and on track. We share the details of our own internal dashboard including multi-touch attribution, tracking customer journeys, and more, in the hands-on webinar, "The Ultimate Marketing Dashboard." Alex Poulos from Chartio and Erik Archer Smith of Treasure Data show you how to efficiently visualize data with Treasure Data and Chartio. Additionally, Treasure Data's Joseph Choe provides a high-level overview of how to unify disparate data sources into one holistic view.
No time to watch the webinar? Here are the top five key takeaways about how to stay on track with the ultimate marketing dashboard.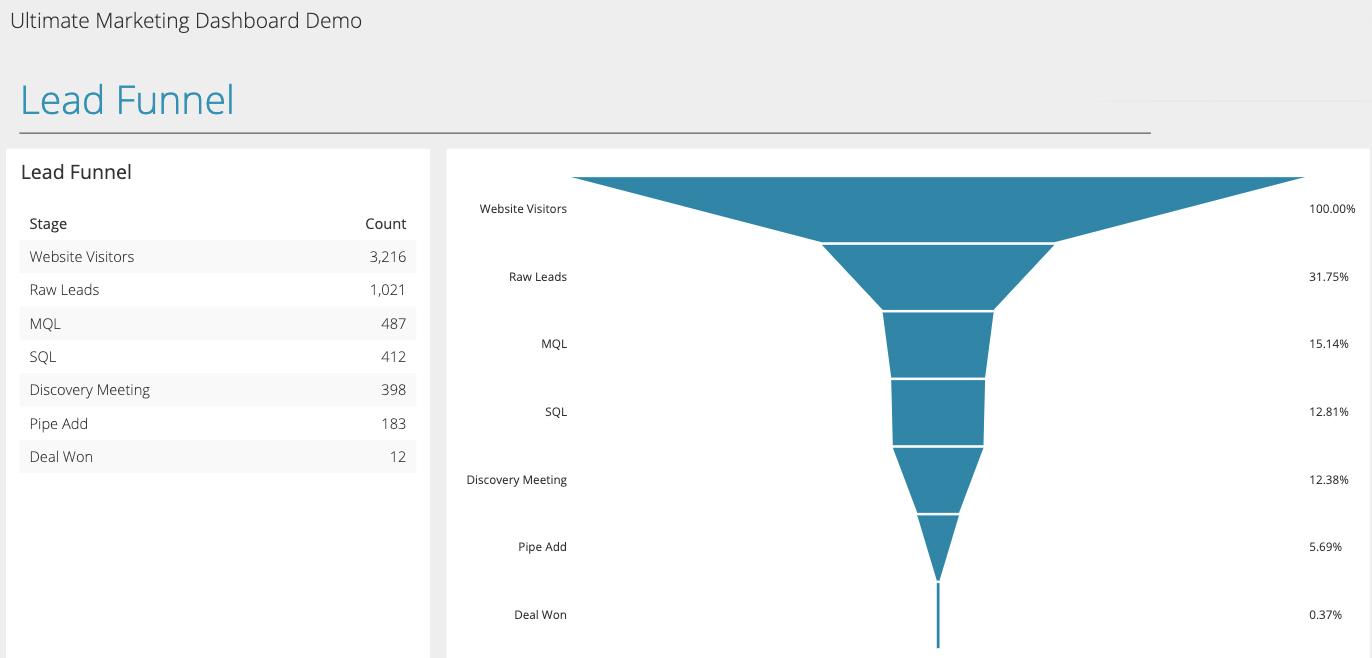 Here's an example of a sales lead funnel in Chartio powered by Treasure Data datasets. It's easy to grasp the big picture at a glance.
Visualize your lead funnel.

Whether your business is B2B or B2C, we recommend a standard lead funnel chart for any marketing team. By combining Salesforce CRM data with direct web data, you can create segments for each stage of the funnel. Treasure Data enterprise Customer Data Platform (CDP) helps marketers use customer attributes, behaviors, and AI engines to create segments for predictive customer scoring and content affinity, as well as signals captured from customer interactions across channels.

Use account awareness scoring.

At Treasure Data, we blend Salesforce and Engagio datasets to measure awareness in targeted accounts. This helps our sales team with their outbound email and call strategies. A key differentiator of Treasure Data's CDP is the ability to provide an out-of-the-box lead scoring engine that scores customer behavior intelligently. The lead scoring engine comes with an analytics screen that provides an understanding of the spread of customers across categories, accuracy scores, and feature effectiveness.

Leverage multi-touch attribution models.

Knowing the first and last touches for sales doesn't tell you the whole story. Multi-touch attribution models take into account all the marketing touches that lead to conversions, which might include content downloads, event attendance, and activity on a partner's channel. Treasure Data enterprise CDP includes multi-touch attribution model templates that provide our clients with more accurate marketing performance insight.

Track the customer journey.

Our CDP is built to visualize the customer journey across channels and provide a full customer 360 degree dashboard of each customer. Segments created in Treasure Data are fluid and can react to customer journey events in near real-time, and subsequent campaigns can be planned based on customer interaction with your messaging and outreach. And if you're in retail, such dashboards help you understand both the online and in-store journeys, and how they're interacting to produce sales—or not.

Build content attribution.

Content attribution is the amount of influence a piece of content has on pipeline (discovery meetings, MRR, etc.). The main idea is that we want to know how well our content is affecting pipeline from a high level to mid level to a granular perspective. Keep in mind that it's important to analyze content from your own properties as well as content from partners like Forbes, BrightTalk, and CMS Wire—as Treasure Data does with its own pipeline.
The Big Picture: Perform Deep Analysis on All Your Marketing Metrics
How do you track your marketing KPIs? Dive deeper into creating the ultimate marketing dashboard by watching this on-demand webinar. You'll learn best practices to track and measure key performance indicators for your marketing and executive teams.
If you're interested in learning about CDP technology, Treasure Data provides a persistent, unified customer database that creates a unified customer experience accessible to other marketing systems and enables real-time segmentation for personalized marketing. Schedule a demo with our experts today!